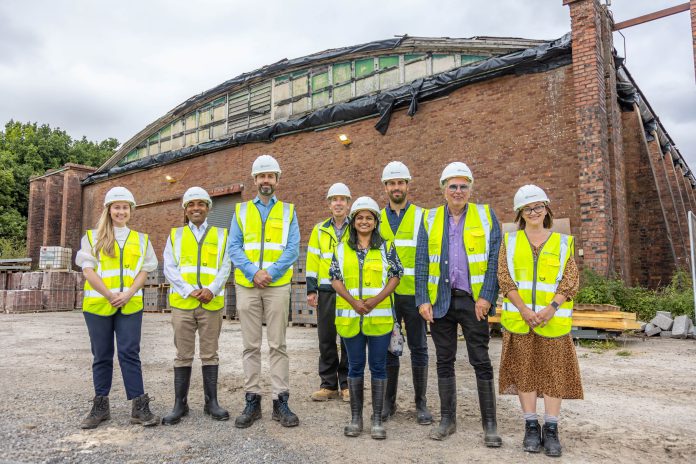 A multimillion-pound bid to Government to restore and convert a First World War aircraft hangar into a brand-new community and business hub has been formally submitted by South Gloucestershire Council.
The restoration of Hanger 16U at Brabazon will form part of the transformation of the historic former Filton Airfield into a thriving new neighbourhood. The plans will see the historic building reborn as a new local, social hub for businesses and community groups, set around a new café.
As part of the bid, which is seeking £5.1 million from the second round of the Government's Levelling Up Fund, the council would work with landowners YTL Developments to ensure that the heritage of the building is preserved and that Hangar 16U becomes a true community asset, accessible on foot, by bicycle and via public transport.
The Government's Levelling Up Fund was created to invest in infrastructure that improves everyday life across the UK, including to support projects that invest in, maintain and expand cultural and heritage assets.
Leader of South Gloucestershire Council, Cllr Toby Savage, said: "Preserving the outstanding heritage of Filton Airfield is a vital aspect of our vision for its regeneration and by restoring and reintroducing the hangar to community use, this will give it a new purpose and ensure it remains a historic local feature for generations to come.
"As local councillors Jo, Sanjay and Brian have made clear to me the importance of providing new facilities and services not just to the new residents of Brabazon, but also the existing Charlton Hayes community as well – and this bid seeks to unlock the necessary funding to do just that."
Cllrs Jo Buddharaju, Brian Hopkinson and Sanjay Shambhu, who represent the Charlton and Cribbs ward, said: "We are delighted that the council has submitted this bid, which will help ensure our new and growing communities have the social and economic infrastructure they need to thrive. We look forward to seeing the outcome of the bid and hope that Charlton Hayes and Brabazon get this support to thrive as they grow."
Director at YTL Developments, Seb Loyn, said: "This bid by South Gloucestershire Council will accelerate the vision to create a thriving new neighbourhood. The transformation of Hangar 16U into a new local, social hub is being designed to foster a sense of community, ensuring that Brabazon is a place not only to live, but to enjoy the best that life has to offer."