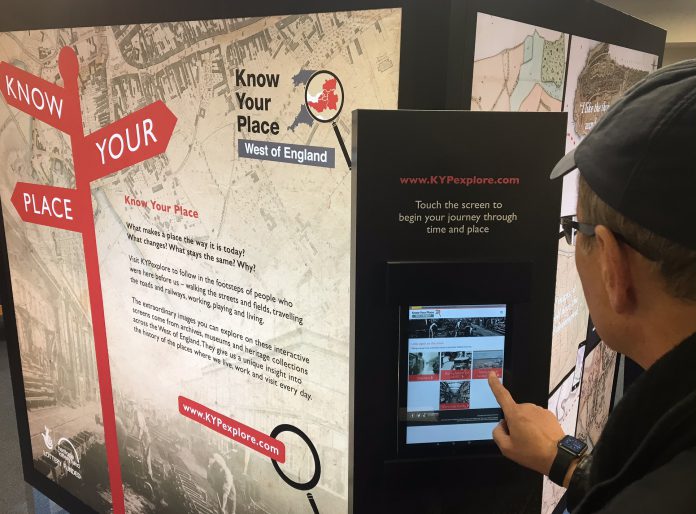 An innovative digital exhibition of historic maps and archive material can be found at Bradley Stoke Library in South Gloucestershire during January and February.
The interactive KYPexplore exhibition features extraordinary images from archives, museums and heritage collections across South Gloucestershire and the West of England, giving visitors a unique insight in to the history of the places where we live, work and visit every day.
The exhibition innovatively combines graphic panels, touchscreens and an online web app to present the archive material in an easy to navigate format. Visitors can take a closer look at familiar places to find their hidden histories and follow in the footsteps of the past, comparing historic and modern photos of familiar landscapes which illustrate how places have transformed over time.
For the first time in one place, the stories of the people who lived and worked in the varied landscapes of the West of England will be told together – from basket fishermen in Oldbury to WWII evacuees in Thornbury, plus there are photographs and recollections of local memories such as tankers colliding on the Severn and a whale stranded in Littleton-upon-Severn.
The exhibition is also available online at www.KYPexplore.com
ECS Chair Cllr Heather Goddard said: "This exhibition is unique in its ambition and interactive use of digital technology, and is the result of a fantastic partnership with many museums, libraries and archives across the area. It pulls together a variety of historic material from across the region, documenting places, buildings, people and industries – some familiar, others more unique.
"We hope the rich and varied stories in the exhibition will help visitors make the connection with their own local heritage and inspire them to explore this further on the Know Your Place digital mapping website."
Nerys Watts, Head of HLF South West, said: "From ensuring information held in centuries-old maps is saved for future generations, to making the changing face of our region accessible at the click of a button, Know Your Place is a fantastic partnership of organisations, communities and volunteers. "Thanks to money raised by National Lottery players we're delighted to support this project which is quite literally putting the West of England's heritage on the map."
The exhibition is now open at Bradley Stoke Library and over the coming months, it will visit a range of museums, libraries and community spaces across the West of England. The full list of venues can be found on the project website www.kypwest.org.uk/exhibition
The exhibition is accompanied by a free public event at Bradley Stoke Library on Saturday 25 February, where from 10am to 1pm we invite visitors to help put Bradley Stoke on the map by bringing your memories and photos of Bradley Stoke along to the library share on Know Your Place. There will also be chance to find out more about this free online research tool and how it can help you explore your neighbourhood's heritage, as well as visit the exhibition and talk to members of our friendly team.
This exhibition is part of Know Your Place – West of England, the digital mapping project to share your neighbourhood's heritage online through old maps, historic images and heritage data. The Know Your Place platform recently extended to map Wiltshire, Bath & North East Somerset and Gloucestershire, and work is underway to map North Somerset and Somerset in spring 2017. The project is supported by the Heritage Lottery Fund (HLF). To start exploring Know Your Place, visit the project's website www.kypwest.org.uk/explore-the-map
Know Your Place – West of England is a living archive; this means we are always looking for new stories, memories, photos etc. We want local people to get involved and share your neighbourhood's heritage online through old maps, paperwork and photos, and if you have a particular story or memory about area then we want to hear it! Please get in touch by visiting www.kypwest.org.uk