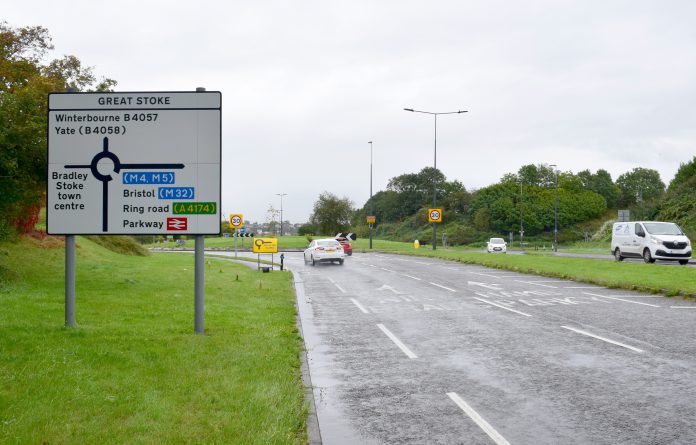 South Gloucestershire Council has received funding approval from the West of England Combined Authority (WECA) to implement major improvements at the Great Stoke roundabout in Stoke Gifford.
The £2.9 million scheme will increase capacity at the roundabout by widening all approaches as well improving safety for cyclists and pedestrians with the introduction of new Toucan crossings.
The scheme includes the following:
* Localised widening and modifications to road markings on the circulatory and on all approaches to increase from two to three lanes
* The introduction of Toucan crossings on each of the four arms which are prioritised for pedestrian and cyclists, as this will be an attractive alternative to cyclists using the roundabout
* The introduction of high quality carriageway entry and exit points for cyclists which are clearly signed, coloured and marked
* Widening of shared use foot and cycle paths where possible, to a suitable width with a high quality surface finish.
Investing in these improvements and increasing the roundabout's capacity now will help future proof the highway network, support planned housing and employment growth in the area, and encourage greater use of sustainable travel methods.
The work is scheduled to take one year to complete and during this time the area will be subject to lane closures. We will do everything we can to minimise the need for full road closures but there will be times when these are essential to enable us to carry out the work safely.
South Gloucestershire Council's Cabinet Member for Planning, Transport and the Strategic Environment Cllr Steve Reade said: "We are very pleased that the Great Stoke roundabout full business case has received approval from the West of England Combined Authority. This is a significant investment at a key location in the north fringe where we are seeing rapid housing and economic growth. Improving and widening this junction will help promote all forms of transport, and will help us to keep the region moving now and in the future."
West of England Mayor Tim Bowles said: "We're really pleased to support these improvements to the Great Stoke roundabout, as part of our commitment to making cycling and walking safer and more attractive options for getting around the region. This work will not only help to tackle current transport issues but will also help keep people moving as we prepare for growth in the longer term."
Great Stoke roundabout is a major intersection of the local highway network that is located near a number of developments in the north fringe including the Cribbs Patchway New Neighbourhood (CPNN), Horizon 38, Charlton Hayes, Harry Stoke New Neighbourhood and Haw Wood. The north fringe is a major economic hub within the region, which is continuing to expand with the Filton Enterprise Area (FEA).
Funding for the improvements was approved on Friday 4 October by WECA. Site clearance will begin this autumn with construction work due to start on site in January 2020.
Further information about the work will be published on our StreetCare Facebook page www.facebook.com/sglosstreetcare