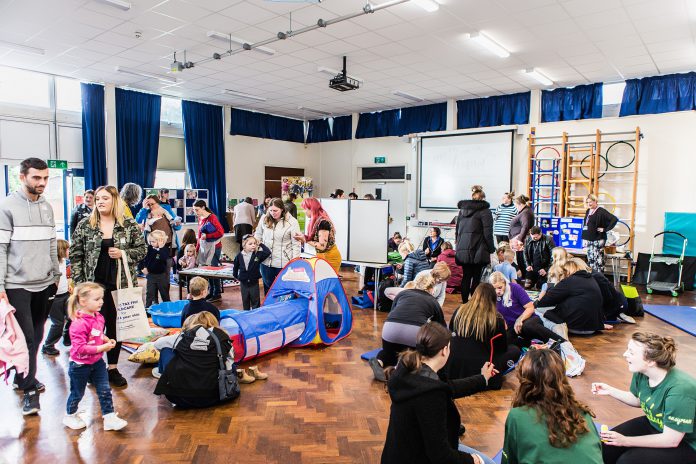 A new 'Changing the Conversation about Language' project which supports children's communication skills was officially launched in South Gloucestershire on Tuesday 8 October.
The launch event was held at Coniston Primary School in Patchway and was attended by local parents and children along with WECA Mayor Tim Bowles.
South Gloucestershire Council's Early Years team are helping to deliver Changing the Conversation about Language in South Gloucestershire. Led by children's communications charity I CAN in partnership with the Royal College of Speech and Language Therapists and digital social enterprise EasyPeasy, the project empowers parents and families, giving them information and skills about how to develop their children's speech and language and improve their life chances.
Within South Gloucestershire, children's centres, health visitors, speech and language therapists, settings, schools and childminders, plus the Early Years team will all be involved at different points to work with and support parents of young children.
The launch event saw parents and children from Coniston Primary School, St Chad's Preschool, Little Rainbows Preschool and Patchway Centre Preschool, play together and try out some language based activities. The morning ended with an interactive outside story time.
Those attending were asked to make a pledge for things they would like to do to support children's language development and there was also a wealth of information for parents to take away with them and use with their children at home.
Cabinet Member for Schools, Skills and Employment Cllr Erica Williams said: "Improving education is our top priority in South Gloucestershire and we know that it is vital to engage with children from an early age. This innovative project helps parents learn how to give their children the best start possible with their speech and language.
"Communicating with a wide vocabulary is crucial for a child's successful start at school, and the parent's use of language with their babies and young children is the most important element in the development of these early communication skills."
I CAN Project Facilitator Anne-Marie Cray said: "This is a fantastic project that we are really pleased to be involved with. It will help us engage with parents and local communities throughout South Gloucestershire about the importance of good communication, and increase parent-child interaction. We want to ensure that no child is left behind because of poor communication. Many thanks and congratulations on the day."
Head of Education at Easy Peasy Jane Bradbury said: "We are proud to be partnering South Gloucestershire Council to support local families through this project. Children learn from birth, not just when they get to school so we're excited that this project is raising awareness about the importance of the home learning environment. EasyPeasy's role is to share fun, simple ideas that families can do together at home to develop the crucial language skills that help children succeed at school and in life."
The launch marked the start of a programme of events which will run until at least March 2020 and hopefully beyond.
For more information visit: www.southglos.gov.uk/childcare