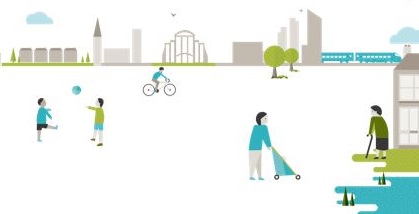 Local people are being encouraged to take part in the consultation process for the Joint Spatial Plan (JSP) and Joint Transport Study (JTS), which closes on 19 December. The proposals in these documents aim to set out how the West of England region – covering the North Somerset, Bristol City, Bath & North East Somerset and South Gloucestershire council areas – can grow over the 20 years and at the same time become an even better place to live, work and move around.
The JTS presents a 'transport vision' for the West of England, which includes up to £7.5billion in infrastructure investments, designed to help the region tackle its existing transport challenges, as well as ideas that will help to address the new challenges that come with providing new places to live for a growing population.
The study looks at ways to improve public transport, walking and cycling, as well as to improve key junctions and, where appropriate, add new routes. As well as tackling congestion, the aim is to improve air quality and reduce the number of car journeys around the region.
The JTS presents proposals 'corridors' to illustrate where traffic, people and goods move through the region. Two of the corridors focus in particular on South Gloucestershire: the Yate and the East Fringe to Bristol routes and the North Fringe (including Thornbury and the north of South Gloucestershire) and Severnside to Bristol corridor.
The maps setting out the vision indicate only approximately where transport investment would be focussed and do not show exact locations. Feedback received through this consultation will help shape the JTS vision. As proposals are refined with the help of that feedback, more detailed plans would then be subject to further public engagement and the usual planning processes.
The proposals to better link Yate and the East Fringe to Bristol look further ahead than the existing MetroBus projects and consider extending that service to Yate, as well as further improvements to roads and public transport, including:
Extension of MetroBus to Yate along the A432
Prioritisation for public transport and cycling on the A432 (Badminton Road), including Park and Ride and linked to a new bypass at Winterbourne, to help traffic flows and ease congestion
An improved rail station at Yate and improvements to train services
A new junction 18A on the M4, with new road and cycling links between this and the A4174 ring road and Yate
Rapid transit from the East Fringe to Bristol.
The North Fringe, including Thornbury and the north of South Gloucestershire, and the Severnside to Bristol corridors, connect existing and potential employment and shopping areas. Severnside currently handles a lot of freight as well as commuter journeys. This package includes a number of key elements, including:
Extending the MetroBus network to Thornbury
A new rail station at Charfield
New cycling routes to provide low-carbon alternatives to car travel
Improvements to motorway junctions and Park and Ride facilities to reduce traffic flow into the centre of Bristol
Ways to manage freight outside of Bristol to reduce the need for large vehicles to travel into the city.
Leader of South Gloucestershire Council, Cllr Matthew Riddle, encouraged individuals as well as business owners, to take a look at the ideas in the consultation and make their voices heard. He said: "We really want to hear people's views on the ambitious ideas in the Joint Transport Study. We've all got our opinions on the traffic jams so let's work together on ways to solve them. It's also not just about traffic, it's about effective alternatives to cars on the road.
"Sixty-four per cent of us drive to work and we want, for example, to look at ways to provide real choices that help protect our environment, including rapid transit options, better local rail services, as well as growing our cycling infrastructure.
"Where driving is still necessary, we want to keep people moving. Of course cars and roads are part of the future, but if we pretend that they are the only way to move people and goods around then we won't move very far.
"If you experience congestion on your commute you will know the challenges we face are significant and that is why the ideas and proposals in this consultation are so ambitious. If we want to spend £7.5billion across the region over 20 years, we need to make sure it's well spent and effective. We are thinking creatively about how we will get around South Gloucestershire and the region in the future and we want to hear from local people as we make those plans."
Residents can find out more and read the full JSP and JTS consultation documents, as well as responding to the consultation, online at www.jointplanningwofe.org.uk