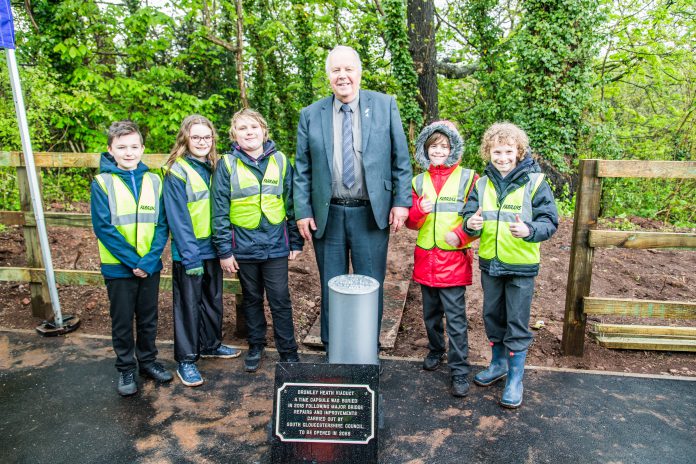 The dual carriageway at the Bromley Heath Viaduct reopened over the weekend following a major maintenance and improvement project.
The contraflow on the A4174 ring road, which has been in place since July 2017, was removed over the weekend of 27-30 April and both lanes of the road were fully reopened in each direction before the early morning rush hour on Monday 30 April.
To mark the end of the project, a time capsule ceremony with contributions from local school children took place on Friday 27 April. Pupils from St Augustine of Canterbury Catholic Primary School and Christchurch Junior School (both in Downend) submitted items including a school tie, class photographs, a poem and the results of a school survey of pupils' favourite foods, music and football teams of 2018. A plaque was put in place to mark the time capsule's location with a view to opening it 50 years later.
Cllr Colin Hunt, Cabinet Member for planning, transportation and the strategic environment, cut the ribbon to officially reopen the road. He said: "The viaduct has undergone major strengthening works and drainage improvements and a new path which can be shared by cyclists and pedestrians has also been added, which is also now open for use.
"I am really pleased to see this major project completed to such a high standard and within budget and demonstrates the council's excellent partnership working with a large number of contractors.
"The time capsule event with local school children was a fitting celebration to mark the end of this complex engineering project.
"I would once again like to thank residents, businesses and commuters for their patience while these essential works were carried out."
The work which has been carried out on the viaduct will ensure that the westbound viaduct will not require any further maintenance for the next 30 years.
Some further site works and the deconstruction of the large scaffolding structure which is in place underneath the viaduct will continue and will be completed in June.
We will continue to keep local residents informed and updates are available via our dedicated Facebook page www.facebook.com/bhviaduct
Some construction facts and figures:
• More than 50,000 hours worked
• Over 1 million litres of water used for the hydro-demolition process (targeted concrete removal by high pressure water jets)
• 350 cubic metres of concrete was placed in the scaffold foundations alone
• 47,500 metres of scaffold tube
• 15,000 fittings
• 9,000 metres of scaffold board
• The scaffold has been designed to support a total load of 400 tonnes
• Weekend work has been carried out every weekend since July 2017.