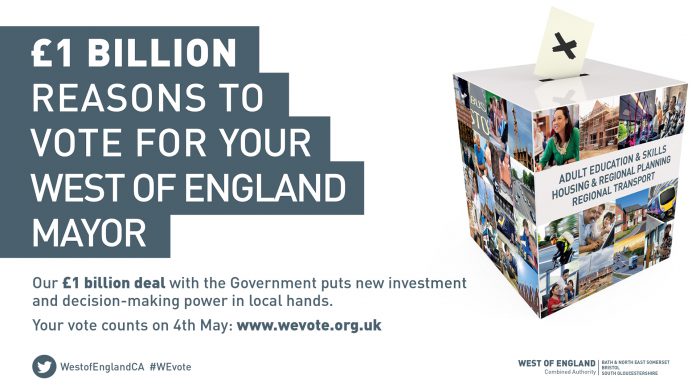 The names of the six candidates standing in the first West of England Combined Authority Mayoral election have been published.
Those standing in the West of England Mayoral election are:
Tim Bowles – The Conservative Party
Aaron Warren Foot – UK Independence Party (UKIP)
Darren Edward Hall – Green Party
Lesley Ann Mansell – Labour and Co-operative Party
John Christopher Savage – Independent
Stephen Williams – Liberal Democrats
Registered voters in South Gloucestershire will have their say on Thursday 4 May on who becomes the first Mayor for the West of England Combined Authority.
Only those registered to vote will be able to have their say in this election and the deadline to register passes at midnight on Thursday 13 April. Registering to vote can be done in minutes online. Visit www.gov.uk/register-to-vote with your national insurance number and follow the on-screen instructions.
From mid-April, everyone in South Gloucestershire who is registered to vote can expect to receive a Mayoral Election booklet which includes information about the election and a campaign statement from those candidates who wished to be included.
The Combined Authority Returning Officer is legally required to produce this booklet for all registered voters.
The £1 billion West of England devolution deal, brings powers and money from national Government to our region, with the ability to make local decisions about spatial planning (including where new homes are planned and where investment in new services is needed to support their development), adult education and skills, employment and regional transport.
As part of the devolution deal there needs to be a regional authority and an elected regional Mayor.