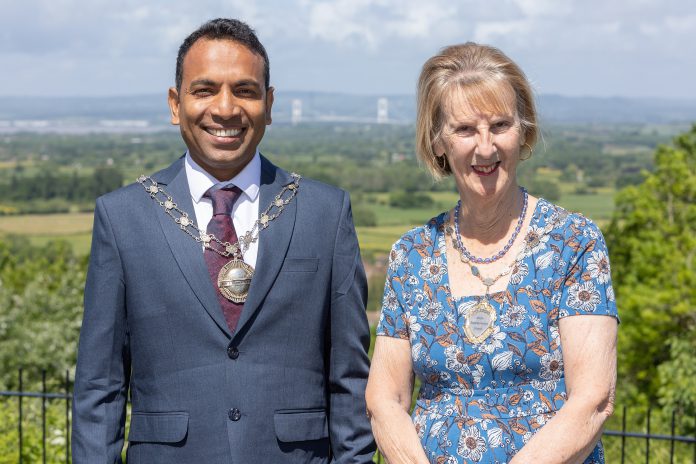 Councillor Sanjay Shambhu has been named as the new chair of South Gloucestershire Council after being elected by fellow councillors at the meeting of council this week (18 May).
Councillor Shambhu moves into the role after serving as vice chair last year, with councillor Judy Adams being elected as vice chair this year.
The chair and vice chair perform important ambassadorial roles, representing the council at civic functions and chairing council meetings.
Each year, the new chair selects a charity to support for the year ahead, with donations received during that time presented at the end of the chair's term of office. Councillor Shambhu will name his chosen charity for the year at the next meeting of council on 20 July.
Sanjay Shambhu, chair of the council said: "I'm honoured and humbled by this great privilege and am proud to be the first British Asian chair of council. It was a pleasure to support and learn from councillor Davis over the past twelve months and I want to congratulate her for her time in the role. I am excited for the year ahead and look forward to representing the wonderful and unique communities across South Gloucestershire."
Outgoing chair, councillor Ruth Davis said: "Saying that it has been an honour to serve as chair of council over the past year is putting it very politely. I'd like to thank everyone who contributed to the chair's charity this year which was 'Off the Record' and we raised £11,494. 'Off the Record' are ambassadors and peer mentors for children with mental health issues and carry out incredibly important work with children in our communities. I wish Sanjay every success with his chairmanship, especially in this Jubilee year."
A special ceremony was hosted prior to the council meeting where former deputy leader of the council and cabinet member for children, adults and health, John Hunt was made an Honorary Alderman in recognition of eminent past service. John served as local member for Frenchay and Downend over several years and was presented with a special certificate by chair, councillor Ruth Davis.
For further information on the work of the Chair of the Council, visit: https://www.southglos.gov.uk/council-and-democracy/councillors-democracy-and-elections/council-chair/