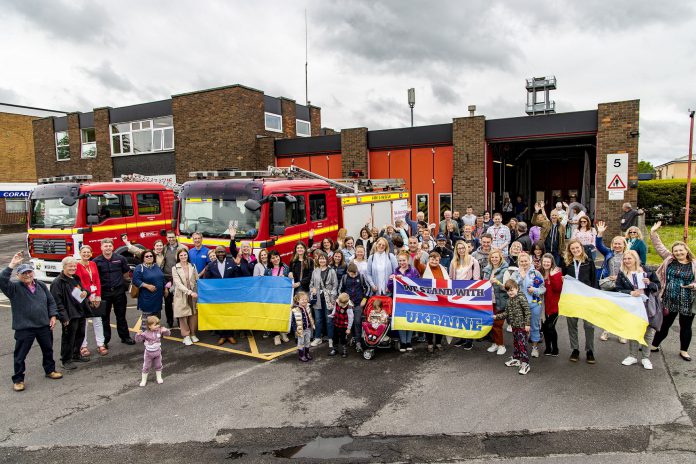 More than 100 Ukrainian guests and their local sponsors were given a warm welcome to South Gloucestershire at an event held by the council at Yate Fire Station on Friday 20 May.
The aim was to welcome the attendees to South Gloucestershire and provide an opportunity for them to meet others in a similar situation and hear more about the area.
As well as featuring information from the council on local services and the range of support available, the welcome was also extended to the Ukrainian people by a local vicar, and representatives from the police and fire services. There was additionally a selection of free toiletries available donated by Morrisons and an NHS vaccination team from UWE were on hand and kept busy giving first, second and booster doses of the Covid vaccine to a significant number of attendees.
The successful event saw lots of conversations taking place and new friendships being formed between the Ukrainian guests and among the different South Gloucestershire sponsors.
Councillor Franklin Owusu-Antwi, cabinet member responsible for public health and equality of opportunity, said: "It was excellent to meet and formally welcome our new Ukrainian residents to South Gloucestershire and to thank their hosts for opening their homes to them. We want to do all we can to help our guests settle in, feel safe and supported and to quickly feel at home in South Gloucestershire.
"My thanks go to the council's Homes for Ukraine team and everyone involved in setting this up, Yate Fire Station for hosting, and to Avon Fire & Rescue Service's Chief Fire Officer Simon Shilton and the Reverend Beverley Charles for opening the event."
Avon Fire & Rescue Service's Chief Fire Officer Simon Shilton said: "It was an honour to have welcomed our new Ukrainian residents, and their host families, to Yate Fire Station. We work hard to help everyone feel safe in our community, and I hope this event went some way in helping our Ukrainian guests feel welcomed and reassured that they are safe when living and working in our area.
"I'd like to thank all the hosting families for opening their homes to those in need, Reverend Beverley Charles and to South Gloucestershire Council's Homes for Ukraine team for their ongoing support to those most in need."
A second event is being arranged in Cadbury Heath on 15 June and weekly Thursday morning drop-in sessions will be starting soon at Holy Trinity Church, Kingswood.
For more information about help and support relating to the crisis in Ukraine visit www.southglos.gov.uk/ukraine
Avon Fire & Rescue Service are offering free Home Fire Safety Visits to those who have fled Ukraine by quoting "Ukraine" when booking on their online portal