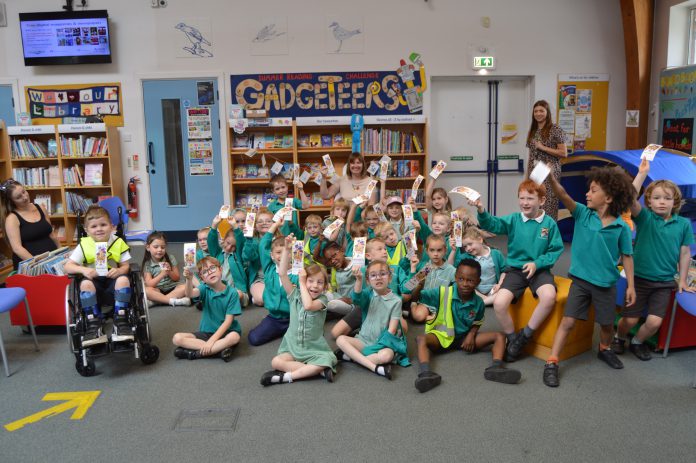 South Gloucestershire Council libraries have been named in the top five authorities in the United Kingdom for the proportion of children participating in the Summer Reading Challenge.
Six thousand children aged between four and 11 took part in the 2022 challenge in South Gloucestershire, reading 100,000 books. This means almost 20 percent of all Primary age school children in the district took part.
The national Summer Reading Challenge is delivered by The Reading Agency in partnership with public libraries and helps to build children's reading engagement and confidence during the summer break from school.
Last year also saw the launch of South Gloucestershire Council's project to give every child a library card, with all children in Reception and Year 1 receiving cards and being encouraged to use them to take part in the Summer Reading Challenge.
Councillor Rachael Hunt, cabinet member for libraries said: "This is a fantastic result by our library service working with local schools and partners to reach more children and families. Congratulations to all the children who took part as reading is an essential skill for education as well as supporting healthy wellbeing and development. It is great to see how popular the Summer Reading Challenge is, and more children are improving and maintaining their reading skills as a result."
Congratulating South Gloucestershire on the result Karen Napier MBE, CEO of The Reading Agency said: "The Summer Reading Challenge reached over 700,000 children across the UK this year and we are really pleased to see the success in South Gloucestershire. We know from our research that taking part in the Summer Reading Challenge helps children to enjoy reading more, feel more confident about reading and helps support their wellbeing."
For the 2022 Challenge, libraries and The Reading Agency partnered with the Science Museum Group for a 'Gadgeteers' science and innovation themed Challenge to spark children's curiosity about the world around them and celebrate the role of the imagination in both reading and the sciences.
Find out more at www.southglos.gov.uk/summerreadingchallenge or like us on Facebook www.facebook.com/sgloslibraries for the latest updates.