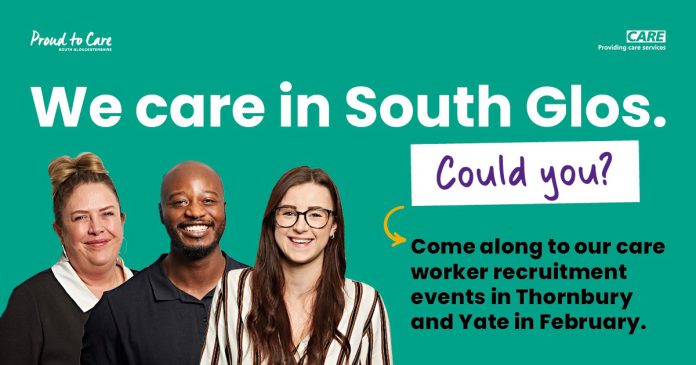 Care workers and employers will be on hand at two recruitment events to encourage local people to find out more about the work and potentially take up some of the jobs available now to deliver care across South Gloucestershire.
They will be promoting vacancies and are hoping to talk to people who live or could work in Thornbury, Winterbourne, Yate, Chipping Sodbury or Frampton Cotterell, where there are currently a number of vacancies.
Local people who are looking for full time work, something to fit around their family or study commitments, or a new direction are encouraged to come along and find out if they could be a care worker, how a job in care could work for them and to get answers to any questions they may have for local employers and people who already work in care.
Local care providers will also be able to hold informal interviews at the events, so attendees could even leave with a provisional job offer, subject to the appropriate checks.
Care workers are vital in maintaining and improving people's quality of life and they are also crucial in supporting people who are well enough to leave hospital after an illness or surgery, for example.
As part of the campaign, which has launched today on social and in local media, people who currently work in care have described why they decided to do the job, the type of people who could do it and the satisfaction they get from supporting people to live fulfilling lives.
Andrew provides support to people in their own homes. He said: "I did hospitality for over 20 years and got to a stage where I kind of fell out of love with that and needed to move on and make a change. I needed something different, I needed something that was a bit more challenging. I didn't have any caring experience apart from looking after my children.
The company I work for do great training. It gives you the tools to go into people's houses to give them the care that they need. I go in and change that person's outlook. It's definitely an area that more people are needed and more caring people are needed. If you enjoy meeting new people, you're really caring and you really enjoy helping people, I think care work is definitely a job you should look into."
Ceri, who works in a care home, said: "It's a very worthwhile job, definitely. You do make a difference. It's not like any other job. You have to give a lot because that's what care is, but sometimes you get something great back that can make you feel good."
Anita, who works in a care home, said: "We have a few people to look after here to give them the opportunity to live the best life they can. This is a home. It's nice to create a home. You need to be very patient, positive. Mainly, you need to be interested in people. You get out as much as you put in. You can certainly make a difference to people's lives."
Councillor Ben Stokes, cabinet member with responsibility for adult social care at South Gloucestershire Council, gave his full support to the campaign. He said: "If you're friendly, compassionate and good with people, a job in care work would be something for you to consider, and you could be a great asset to the care workforce in South Gloucestershire.
"We have a growing number of older people who need some support, but who want to be able to stay in their own homes. Others need more help and choose to live in care homes where they rely on care workers, but are able to live full and fulfilling lives. Ultimately, that's what they want and what we all want for our loved ones.
"Care workers are vital to our local health and care system, local people and our local communities: they help people recover from hospital stays, to settle back home and to maximise their independence.
"We are investing Government funding allocated to us in order to support the local health and care system and improve discharge from hospitals. And we want to show how important, valued and vital care workers are to our communities and individuals, helping people recovering quickly from hospital stays, settling back home and maximising their independence."
Details of the two local recruitment events to find new care workers are below:
• Tuesday 7 Feb, 11.30am – 3.30pm at Turnberrie's Community Centre, Bath Road, Thornbury BS35 2BB
• Wednesday 15 Feb, 12.30pm – 4.30pm at Yate Active Lifestyle Centre, Kennedy Way, Yate BS37 4DQ
The events will give you the chance to:
• find out if you could be a care worker
• discover how a job in care could work for you
• ask questions directly to our local care employers
• have an informal job interview 'on the spot'
You can either register for the events online or just turn up on the day, it is completely up to you.
Visit www.proudtocaresouthglos.org.uk for full details and to register if you wish to.
These events are being run by South Gloucestershire Council with a number of local care employers as part of the Proud to Care campaign.
In this short video, care workers Andrew, Ceri and Anita explain why they are proud to care in South Gloucestershire: https://www.youtube.com/watch?v=5CZODnLHQyI