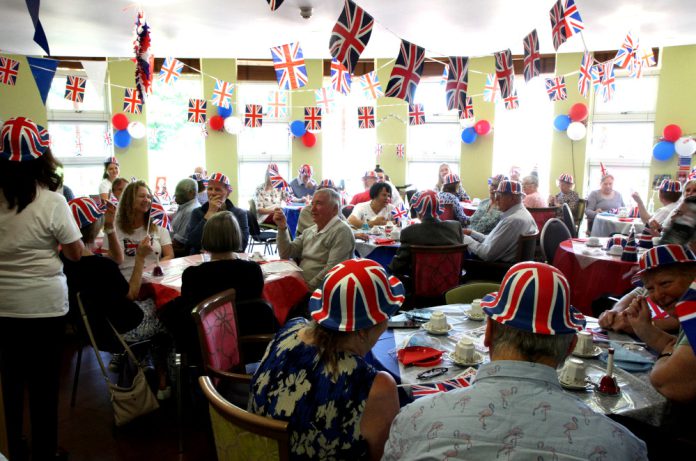 Cambrian Green Day Services in Yate held its very own 'Street Party' event on Friday 27 May giving those who attend the centre an opportunity to celebrate the Queen's Platinum Jubilee.
Cambrian Green Day Services is South Gloucestershire Council's purpose-built Dementia Day Care service supporting people with dementia from across the area and providing an important lifeline for their carers. Every weekday, the staff at Cambrian Green organise an extensive activity programme, encouraging social interaction and supporting people to reach their full potential, whilst enabling family carers to have a break.
Everyone who attends the service was invited to the Jubilee event, and for the first time since before the pandemic, their carers were able to go along too.
South Gloucestershire Council's chief executive Dave Perry and Councillor Ben Stokes, cabinet member responsible for adult social care, also joined them.
Councillor Stokes said: "Cambrian Green's staff did a fantastic job decorating the centre and getting everyone involved in the Jubilee-themed activities. It was clear from the smiles on faces how much people enjoyed themselves and I'm pretty sure no-one left hungry having been fed a traditional lunch of fish and chips and trifle, followed by cakes and afternoon tea before going home!
"Speaking with some of the carers at the event really drove home to me what an important service this is. Every weekday, our staff welcome people from across South Gloucestershire who have dementia to take part in activities ranging from cooking to DIY, active physical games and of course singing, all aimed at encouraging social interaction and building and maintaining key life skills.
"Caring is a 24/7 job, so this service provides a real lifeline for them. Having somewhere where their loved ones can spend a day or two a week where they are safe, cared for and engaged in meaningful activities, gives them a much-needed break, but they also told me about the improvement they'd noticed in wellbeing."
Beth Tovey, manager of Cambrian Green Day Services, said: "Feedback following the event has been truly humbling with many family carers saying how being part of a social event together has been sorely missed and welcomed, as well as having an opportunity to meet and connect with other carers.
"The staff team worked tirelessly in making this national celebration a great success at the centre and as the manager of the service I am overwhelmed with true pride, it was a real positive move forward for our community and for those who attend living with dementia."
Do you know someone who could benefit from support?
If you are a carer supporting someone with dementia and would like to find out about the services provided at Cambrian Green Day Services, please telephone 01454 864790/1 or visit www.southglos.gov.uk/cambriangreen.