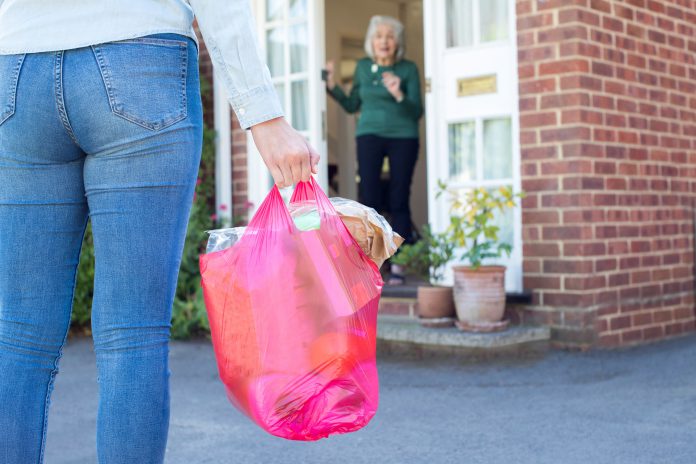 We want to recognise the incredible efforts of the local support groups that have sprung up across South Gloucestershire to provide help to the vulnerable in our communities during the Covid-19 outbreak, particularly those who are most vulnerable: those who are being asked to shield in their own homes and those who are self-isolating.
We want to wholeheartedly thank them for their huge contribution. They are already providing a lifeline for people unable to get to the shops for provisions or to collect prescriptions from local pharmacies, for example, as well providing welfare support by reaching out by telephone, email, text or social media to let people who cannot get out hear a friendly voice or messages and offers of support.
We are working hard to maintain essential services and also have a key role to play in making sure that everyone is fed and provided for during these unprecedented times and we are supporting the national scheme to help those being asked to shield in their own homes. We are reaching out to those who have been written to by the NHS as told to shield, to make sure they have enough to eat, for example, and if they run short before the nationally organised food parcels which are being delivered to people with no other support network, we are organising emergency supplies.
There is a wealth of information available to channel offers of support into local groups and for those who want to find out where to go for help in their area, but this can be overwhelming for some, or difficult to access for those without access to the internet and social media channels. That is why we are working alongside a range of organisations who would normally be providing a variety of community support services, who are now refocussing their resources to help meet the challenges of the Covid-19 outbreak.
For those without access to our website or social media, residents can contact Southern Brooks Community Partnerships, who are working alongside the council to connect individuals in need of support with the help they need. Their line – 07773 209943 – is staffed from 8am to 8pm, seven days a-week and the team is also available by email at communitysupport@southernbrooks.org.uk.
Their operators will be able to talk to residents and connect them to the help available, linking in with the range of voluntary groups across South Gloucestershire. If there is something these groups aren't able to help with, we will work between us to provide the practical help required.
We are also working alongside Council for Voluntary Services (CVS South Gloucestershire) to provide organisational support to the community-based groups. CVS South Glos are hosting weekly virtual meetings with representatives of these groups to identify what further help they might need, and pulling together a number of other organisations, including South Glos volunteer centres, that are able to offer advice and support. These discussions are really important as some of these groups are new, expanding rapidly and beginning to look at offering a wider range of support; the demand for which is likely to increase further and be needed for longer in the weeks and months ahead.
Both Southern Brooks and CVS South Glos are feeding into the council information about the services being delivered and helping to identify where any gaps in support might be so that we can work together to ensure that nobody is left out.
Southern Brooks can help put you in touch with local groups in your area if you need help. They are also providing practical support such as shopping, collection of prescriptions, dog walking etc if it's not possible for other groups to do this.
Leader of South Gloucestershire Council, Toby Savage, said: "The Covid-19 outbreak is presenting us all with incredible challenges and we are all having to adapt our lives to follow the advice on social distancing to keep everyone safe. What has been incredible to see has been the way in which local groups have come together to support those in their communities who are in need and we are delighted to be able to work alongside our partners at Southern Brooks and CVS South Glos to support those groups and those individuals.
"The Council is refocussing its resources to maintain essential services and respond to the challenges being presented by Covid-19 and the voluntary and community sector has also moved rapidly to adapt the way it supports individuals and groups in need and who are working hard to help.
"I want to thank everyone who is pulling together during these testing times for the community spirit and cooperative effort that is showing the very best side of South Gloucestershire in these times."
Chief Executive of Southern Brooks Community Partnerships, Julie Close, said: "Southern Brooks are pleased to be working with South Gloucestershire Council and partners in supporting residents of South Gloucestershire to stay well and safe, and to recover quickly if they become ill. The power of communities and the people who live here is making such a difference at this time, and the mutual aid groups are amazing."
Chief Executive of CVS South Gloucestershire, Steve Curry, said: "CVS are delighted to able to support this new wave of community action and collaborate with South Gloucestershire Council and other partners in supporting co-ordination with statutory services."
We have launched a new Freephone number for queries about the council's Covid-19 response, including where to get help and how services are changing in light of staffing issues and other pressures. The number is 0800 953 7778 and it will be answered by our trained contact centre staff, who will be able to provide information and direct you to the right place for the right help. This line is only for Covid-19-related queries and for all other enquiries, please continue to use our main contact centre number: 01454 868009. Please do be aware that this line will be very busy and we want to be able to provide priority support to those who do not have access to the extensive information available on our website, which details all of the ways that we're responding to the Covid-19 situation. We ask that wherever possible you first check to see if the information you need is available online at www.southglos.gov.uk/coronavirus. These pages include information about local community groups that are helping vulnerable people across the district, changes to council services due to the outbreak, and a regularly updated FAQs section. If you do need to call, please be patient and our staff will respond to you as soon as they can.
There is also a number specifically for those who have received a letter from the NHS and advised to shield in their own homes, this is 01454 86 4040, or you can email community.shielding@southglos.gov.uk if you need more information or support.
A directory of all the local groups providing help to neighbours and their communities across South Gloucestershire, please check our online directory at www.southglos.gov.uk/communityaid