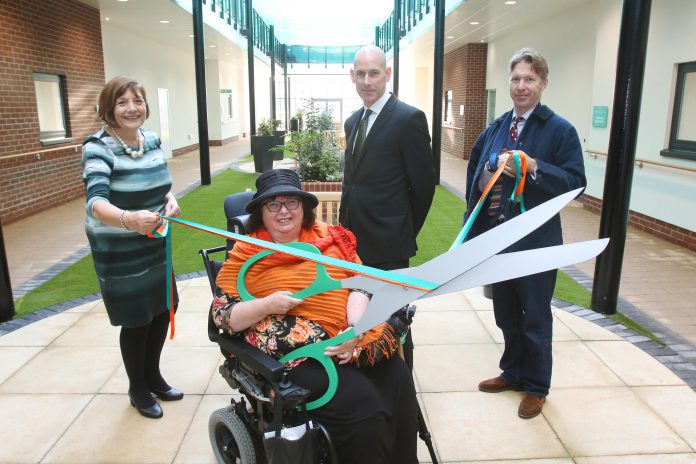 Seventy-one years-old Pam Fortune officially opened the show homes at the new Stoke Gifford Retirement Village.
Demand for the village is soaring and over 1,000 households across South Gloucestershire and Bristol have already registered their interest.
The village, which will have 260 self-contained homes, is due to open in autumn 2018 and is a partnership between registered charity The ExtraCare Charitable Trust, South Gloucestershire Council and Bristol City Council.
Pam, who has been a wheelchair user for 27 years, is hoping to move to a two bedroom shared ownership apartment. She said living in the village would give her hope and purpose.
'I haven't felt excitement about the future until now,' she said.
Pam lives in a three bedroom semi, with the help of personal assistants. 'My life is complicated and it's tiring,' she said. 'It's a massive exercise in management and it is very stressful and scary sometimes.
'The house is too big for me. I can't leap up a ladder and decorate. The chap who does the garden can't come as frequently as he used to. I look around and none of it gets any easier.
Pam is hoping to volunteer at the village, sharing her skills in arts and crafts and creative writing.
'I loved the idea of being somewhere where I could be more independent,' she said. 'I could get out of my own front door; go to whatever I chose to do and go back home again. I wouldn't need someone to get me to the library or get me to the art room or whatever. This saves precious time, precious energy and care hours. It enables me to live more fully and give what I have to give, using my time and energy for the benefit of others as well as myself.
'I will feel braver to try new things, I can just see freedom, the chance to spread my wings and touch other people's lives.
'I'm really excited about possible improvement and maybe needing less care in the future.
'I can see life expanding and I think I will feel stronger mentally, physically and emotionally.
'This is the first opportunity I have had to feel real hope at the prospect of being part of something beyond just me, to have a sense of belonging and the satisfaction of knowing I can make a difference. '
The village is being built to the east of Coldharbour Lane near to the University of the West of England.
The spacious one or two bedroom apartments, most with their own balcony, will include a hallway, living room, kitchen and shower room and are designed to meet a wide range of financial circumstances with purchase, shared ownership and rental options available.
Facilities will be open to residents 'families, friends and volunteers. They will include a reception and main street, shop, library and IT suite, café bar and bistro, hairdressing and beauty salon, fitness suite and craft room.
Care will be available on site for those who need support to live independently in their own village apartment. ExtraCare's award winning well-being service will also help residents maintain their health. A recent study with Aston University found that residents living in ExtraCare's villages reduced their dependence on GP and hospital services. In April 2017 the charity won the UK Housing Awards' Outstanding Development Programme of the Year.
Commissioning Manager for the ExtraCare Charitable Trust, Lesley Blowers, said:  "We're a charity committed to enriching people's lives.  Our communities ensure people can look forward to each day with things to do, skills to share and great social opportunities, always knowing they have the privacy of their own home to enjoy, and care available if they need it. There are plenty of apartments available but strong interest so we'd encourage people to come and have a look early and meet the team."
Cllr Ben Stokes, Cabinet Member responsible for Adult Care at South Gloucestershire Council, said: "Being able to see the show home today really does bring the story of ExtraCare living to life. You really can start to picture what it will be like for older people to live here when the development opens next year.
"Community is at the heart of this fantastic facility and the people who do move in will have all sorts of opportunities to mix with other people of different ages. Residents will age better and feel less isolated by utilising the on-site resources which will include a library and IT suite, a hobby room and fitness facility as well as having access to a health and wellbeing nurse and specialist dementia service."
Councillor Helen Holland, Cabinet Member for Adult Social Care at Bristol City Council, said: "The Mayor's commitment to delivering more homes in our city includes meeting the needs of older and disabled people, where we know many live in unsuitable accommodation. Extra Care housing gives people privacy and the security of having their own home, but with the reassurance that care is available when it's needed.
"The whole development has been designed to create a real sense of community, with shared communal facilities which will help to reduce social isolation, and increase independence. We know that loneliness is a critical factor in well-being, and we believe that new residents here will find friendship and activities in purpose-built homes, to help them live well for longer. "
Village show homes are open from 10am to 4pm Monday to Friday, or phone 0300 303 2333 to find out more. www.stokegiffordvillage.co.uk