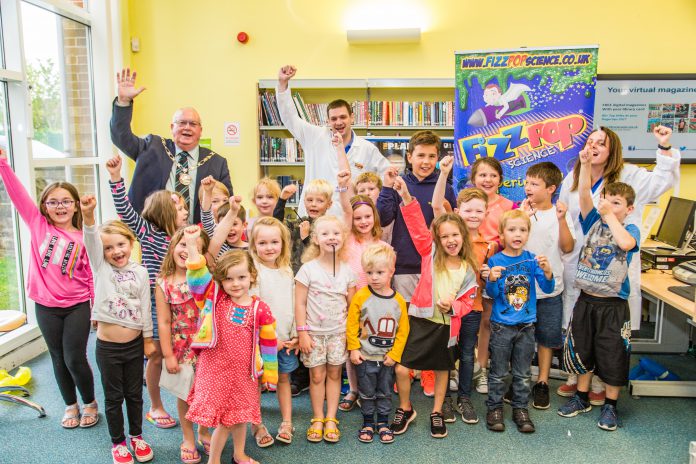 Children and families were joined by the Chair of South Gloucestershire Council, Cllr Brian Allinson at Cadbury Heath Library on 30 July for a science workshop to encourage children to get into science and read more over the summer.
The interactive Fizz Pop Science workshop was held as part of the 20th national Summer Reading Challenge which takes place across South Gloucestershire libraries again this summer.
Children explored space travel and followed the journey of NASA's Apollo 11 mission to the moon, learning about what it's like to wear a spacesuit and even tasting some freeze-dried space food.
The Summer Reading Challenge is open to 4 to 11-year-olds and runs between 13 July and 14 September across all libraries in South Gloucestershire. This year's theme is 'Space Chase', which is inspired by the 50th anniversary of the first moon landing.
Children can sign up at their local library where they will be presented with a mission folder to display stickers and record the books that they read. These stickers will also provide clues to help children solve a space themed mystery as the challenge progresses. Children receive a medal and certificate when they complete the challenge.
Chair of South Gloucestershire Council, Cllr Brian Allinson said: "It's been a pleasure to attend today's workshop and witness the sheer enthusiasm these children have for learning.
"I remember watching the Apollo 11 moon landing, so I'm delighted that our libraries are holding these workshops to excite children about science and inspire them to learn more and become the scientists of the future.
"I encourage all those children who haven't already signed-up for this year's Summer Reading Challenge to visit their local library. The Challenge helps to support and inspire local children to read more during the summer holiday and develop a life-long love of reading."
Speaking at the workshop, Logan, aged 7 said: "It was awesome".
Parent, Katie Bell, said: "The workshop was a fun way of learning about space! Something different to entertain the kids during the holidays!"
There is a programme of free events and activities at libraries for families over the summer to celebrate the Summer Reading Challenge. Contact your local library or visit www.southglos.gov.uk/childrenslibrary to find out how to take part.
Like us on Facebook www.facebook.com/sgloslibraries and follow us on Twitter @southgloslibs for the latest Space Chase mission updates.