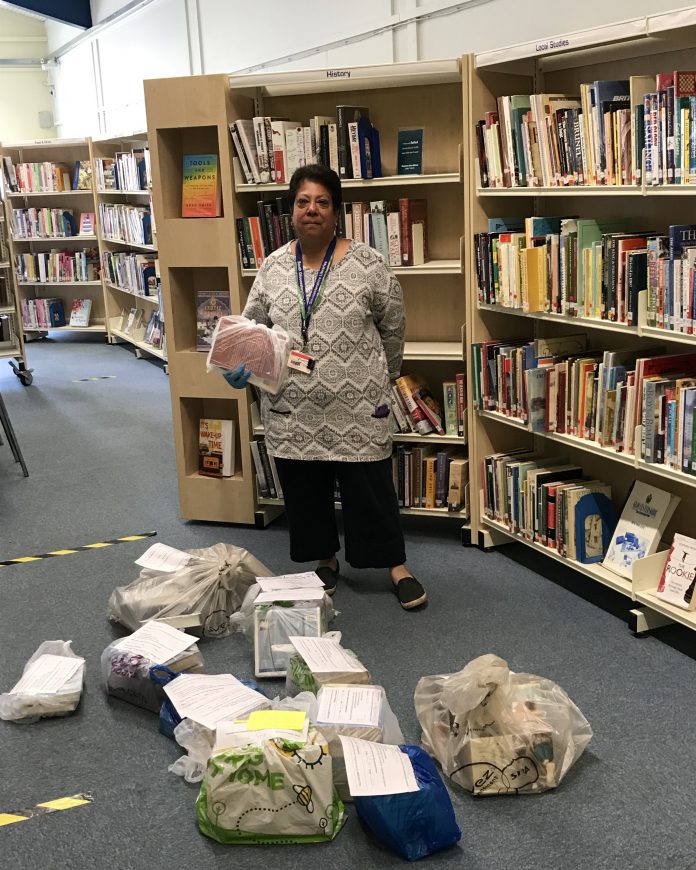 South Gloucestershire Council's library service is delivering books to Home Library Service users as part of our commitment to supporting older and more vulnerable people during the coronavirus pandemic.
The benefits of reading for wellbeing have never been more important than they are now, and for some older people reading is an essential part of their daily life, particularly for those without digital access. In the days leading up to the current temporary closure of libraries, many older people expressed deep concern at the loss of books to read whilst in isolation at home. In response, our library staff are delivering books to their most isolated users.
The initial phone call to the library users has proved very welcome, many of the people contacted haven't spoken to anyone for several days so the libraries staff have been able to talk to them and where required refer them to local and Council support. Key contact information is also provided with the books, as many people they support don't use any digital services.
Cabinet Member for Communities Cllr Rachael Hunt said: "I am so proud of all the staff at South Gloucestershire Council for the way in which they are adapting services to support the most vulnerable people in this current crisis. Reading can be very calming, is a great way to keep the mind active and can also provide a welcome distraction. I am sure that all of the people being supported by the library staff are really appreciative."
The service has been a lifeline to users, as Home Library Service user Valerie Stanton, from Hanham, explained: "Such grateful thanks to the home delivery service at this time when so many of us have always relied on reading as part of our daily lives. Reading brings to life the beauty of fiction that can touch your heart, not to be forgotten. Never feeling alone when reading as so many of us are. Lifting a book, gently turning the page to transport yourself to the imagination of these writers gives a feeling of completeness to oneself, of happiness, contentment and gratitude."
The Home Library Service team at Hanham Library said: "We have been overwhelmed and touched by the number of positive comments we have received from users when we have phoned them regarding the Home Library Service. Those we have spoken to have been so grateful to have been thought about and have commented at how lost they have felt not being able to visit the library. We are often the only people that they have spoken to that day and seeing the smile on their face when they have received their bag of books is heart-warming. To feel like we are making even a small difference to our user's mental health and wellbeing during this challenging time gives us a sense of purpose and worth."
The libraries are ensuring that strict health and safety guidance is followed to protect users of the service and staff.
Over the next few weeks the library service will be extending the service and working with families supported by South Gloucestershire Council to deliver books to assist them with their reading and help parents keep their children entertained.
Like us on Facebook www.facebook.com/sgloslibraries and follow us on Twitter @southgloslibs for the latest updates from South Gloucestershire Council's library service.