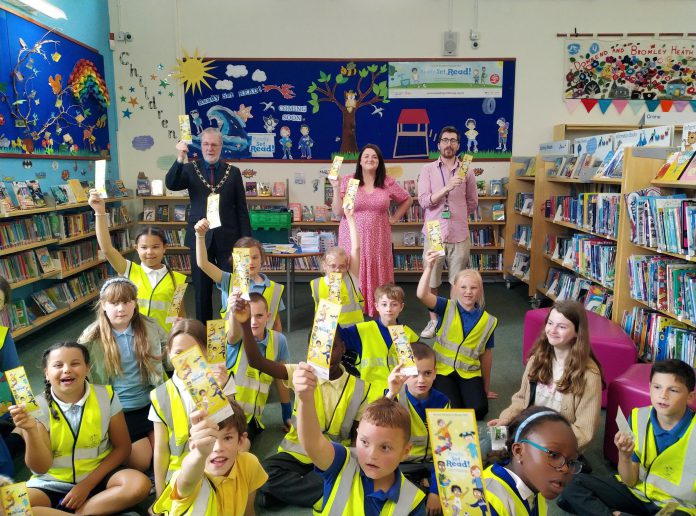 South Gloucestershire Council Library service is inviting all primary school aged children to visit their local library this summer and take part in the Summer Reading Challenge 2023.
Libraries and The Reading Agency have partnered with The Youth Sport Trust for 'Ready, Set, Read!', a sports, games and play themed challenge to highlight the positive impact that reading, keeping active, and having fun have on a child's development.
The free challenge launched on 8 July and supports children to become more independent readers, improving reading confidence over the summer break from school. It also supports positive mental wellbeing and boosts self-esteem.
Children aged between four and 11 sign-up at their local library during staffed opening hours and collect a free goodie bag to get them started. They then read books of their choice over the summer holidays and collect stickers to complete a collectors' card; receiving a medal and certificate once it's completed.
Children from Barley Close Community Primary School in Mangotsfield took part in an educational workshop run by the University of the West of England's School of Engineering at Downend Library, to launch the Summer Reading Challenge 2023.
They were joined by Chair of South Gloucestershire Council, Councillor Mike Drew and Cabinet Member with responsibility for Libraries, Councillor Leigh Ingham, to mark the occasion.
Councillor Mike Drew, Chair of South Gloucestershire Council said: "The Summer Reading Challenge is a hugely popular annual event that has been enjoyed by thousands of South Gloucestershire children over the many years it has been running. It's a pleasure to be here to mark the launch this year's challenge and I encourage all parents and carers to put their children forward to participate. It's a fun way to maintain their reading over the summer holidays and means they are ready to go once the new school year begins."
Councillor Leigh Ingham, cabinet member for libraries at South Gloucestershire Council said: "We know that reading is a really positive activity for children, especially when they get to do it with their families. We also know that children's reading can dip during the long summer holidays without regular access to books and encouragement to read for pleasure. The Summer Reading Challenge seeks to address this by encouraging all primary age children across the district to visit their local libraries which have thousands of great books on offer. The Challenge increases children's reading engagement and confidence and It's free to participate, which will help with family budgets feeling the impact of cost-of-living pressures at present. There are lots of free activities taking place at our libraries over the summer which are great for keeping the children occupied and having fun, my advice to parents is to take the children along to your local library and see what is on offer."
Families who have taken part in the Summer Reading Challenge have seen the positive difference it has made to their children's reading. A parent of a children who participated in last year's challenge at Cadbury Heath Library said: "I thought the challenge was brilliant and so did my children. It was a fantastic way to get them excited about reading over the summer. The craft activities were very clever and engaging. My eldest's reading fluency noticeably increased during the challenge."
To keep children busy and create a positive attitude towards reading, libraries are providing free activities including ZooLab animal workshops, Ready, Set, Read! themed crafts and Lego™ clubs through the summer.
Find out more about the Summer Reading Challenge at www.southglos.gov.uk/summerreadingchallenge or like us on Facebook www.facebook.com/sgloslibraries for the latest updates.
Find your local Library at https://beta.southglos.gov.uk/leisure-and-culture/libraries/find-a-library/