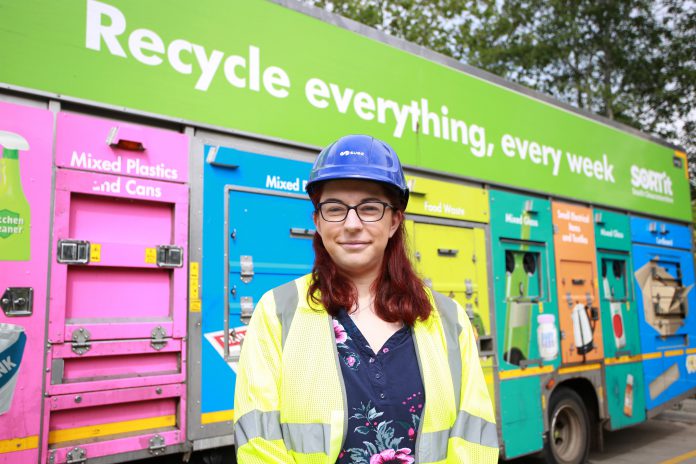 After successfully re-opening three of our Sort It recycling centres at Mangotsfield, Thornbury and Yate last weekend, we are now in a position to accept a full range of waste at those sites from Thursday 21 May.
Some restrictions around the type of waste that could be disposed of were in place so we could implement essential social distancing measures and evaluate how efficiently the sites were operating with the measures in place.
With residents listening to advice around only using the sites if absolutely necessary, it now means we can return to accepting our normal range of waste and we will continue to offer extended opening hours until further notice. (6am to 6pm, 7 days a week, including Bank Holiday Monday 25 May)
Cabinet Member for Communities, Cllr Rachael Hunt said: "It is great news that as of 21 May, we will be accepting a normal range of waste after reopening our Sort It Recycling centres at Mangotsfield, Thornbury and Yate last weekend.
"I want to thank our residents for heeding our advice and only using the centres if it is not safe to store their waste at home for the time being. I encourage people to monitor our website for the latest information as we will be reviewing the situation regularly and will provide updates as and when required.
"To help reduce queues we are advising people to make use of the extended opening hours and to visit when the sites are quieter. Sorting your waste before you leave will also help to speed up your visit."
Please note:
• Site staff will not be able to help unload vehicles, so make sure you have someone from your household with you if you need help
• Little Stoke Sort It recycling centre will remain closed until further notice
• The re-use shop at Thornbury Sort It recycling centre will also be closed until further notice
• No trailers are allowed.
We expect the sites to be busy and we have arranged traffic management to keep vehicles moving. This will include directing collection vehicles straight into the waste transfer stations next to the Sort It recycling centres at Yate and Mangotsfield to remove them from the queue and ensure that waste and recycling collections are not delayed.
Please use the sites responsibly, recycle at home and only come to the Sort It recycling centres if you really need to. Tips on recycling and reusing your waste can be found on our Facebook page www.facebook.com/sglosstreetcare
Details on the reopening of our Sort It recycling centres can be found at www.southglos.gov.uk/sortit and www.southglos.gov.uk/servicedisruption
There are no changes to collection days for garden waste, black bins or recycling, so please put your containers out by 7:00am on your normal collection day. You can check your collection at www.southglos.gov.uk/collectionday