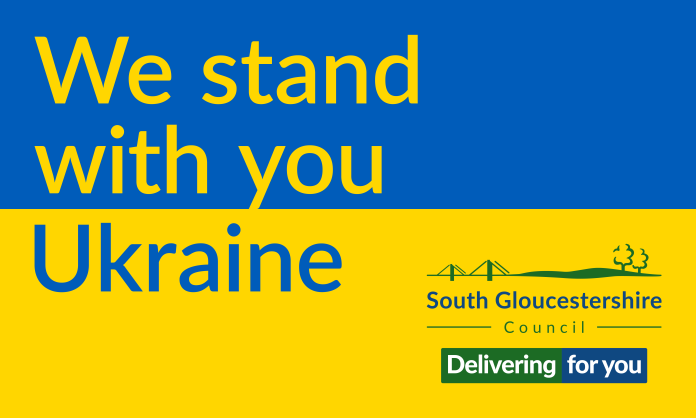 South Gloucestershire will stand in continued solidarity with Ukraine this week as its citizens across the world celebrate their Independence Day on Wednesday 24 August.
The council will mark the day by flying the Ukrainian flag on its offices in Yate and Kingswood and with a picnic for Ukrainian guests staying with local hosts in the area, at Kingsgate Park in Yate.
Of course, this year's Independence Day celebrations will be incredibly difficult because, while it will be 31 years since Ukraine declared independence from the Soviet Union, it will also be exactly six months since Russia's invasion of the country.
People from across the UK will be showing their solidarity with Ukraine through the #SunflowersForUkraine social media campaign. The sunflower is the national flower of Ukraine and the nationwide campaign aims to encourage individuals to show they stand with Ukraine by sharing pictures of sunflowers on social media to mark Ukraine Independence Day.
Residents are encouraged to post a photo or video of themselves with a sunflower and the hashtags #SunflowersForUkraine #StandforFreedom. The council will also be sharing messages of solidarity on social media which they invite all residents to like and share.
South Gloucestershire now has 300 Ukrainians living with local hosts under the Homes for Ukraine scheme and more are living here with family. They are enjoying the welcome safety of life here and building lives, through work and school, but of course their minds are always on the home country and friends and relatives still suffering because of the war.
The Homes for Ukraine scheme is still open for applications from potential hosts. To begin the process of opening your home to families fleeing the war, visit the council's web pages at www.southglos.gov.uk/ukraine.
Leader of South Gloucestershire Council, Cllr Toby Savage, said: "South Gloucestershire stands in solidarity with Ukraine, and we invite all residents to join us in showing their support on Wednesday 24 August.
"The way in which the area has welcomed people fleeing the war in Ukraine has been inspiring and we continue to work with Southern Brooks, Julian House and a range of partners to support those families and individuals to settle in our area, find employment, make friends and feel at home as members of our communities for however long they stay.
"Our thoughts are with those who have lost loved ones in the war and who have family members still living through the conflict back at home."
Cabinet Member for Equality of Opportunity, Cllr Franklin Owusu-Antwi, said: "I sincerely thank all residents of South Gloucestershire who have welcomed Ukrainians to our area whether that has been by opening their homes, offering employment or simply extending the hand of friendship. I hope that many of you will celebrate Ukraine Independence Day and show your solidarity and support for Ukrainians here and back in their homeland."