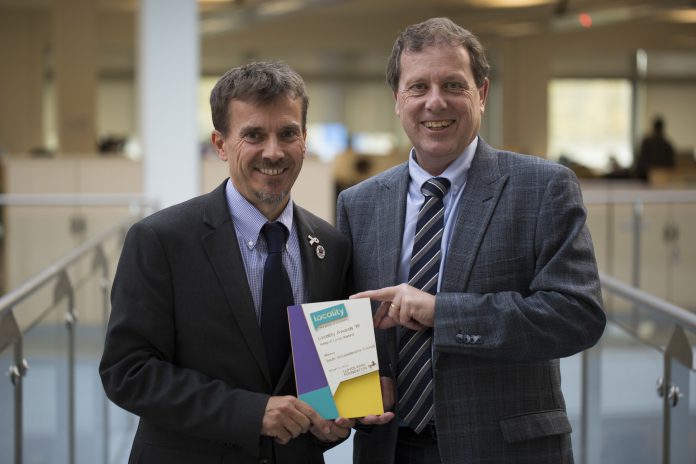 We are delighted to be announced as winner of the national 'Keep it Local' award at the Locality Awards 2019, which were held in Leeds yesterday (Tuesday 12 November).
South Gloucestershire Council emerged as the overall winner in the Keep it Local category after being chosen from five shortlisted nominees from across the country.
Locality supports community organisations to be strong and successful so communities thrive. The Locality Awards celebrate the most dedicated and inspiring people and organisations in the Locality network, and Keep it Local is their campaign calling for councils to commission locally for services that transform lives, as a way to turn the tide on large-scale outsourcing.
After winning a Locality award last year, Southern Brooks Community Partnerships nominated the Council for this year's Keep it Local award to recognise our commitment to partnership working.
South Gloucestershire Council's Head of Safe Strong Communities Robert Walsh joined representatives from Southern Brooks to collect the award. He said: "We are very pleased to be recognised with Locality's 'Keep it Local' award.
"We know the positive contribution Voluntary, Community and Social Enterprise (VCSE) Sector organisations make to our local communities, and that working together we achieve much more for the benefit of local residents and communities than the council ever could in standing alone.
"VCSE groups bring different perspectives and abilities to those of the council; they have a real credibility with the public; and have great connections on the ground.
"This award tells us that we are recognised for the journey we are on together with VCSE groups, and we will continue that journey together to benefit the people of South Gloucestershire."
Julie Close at Southern Brooks Community Partnerships said: "We nominated South Gloucestershire Council as we really value the way they work with us. We wanted them to be recognised for this as an exemplar of how councils could work with their voluntary sector. We are delighted that they won, and were pleased to celebrate at the Awards with them."
The winners of the Locality Awards are selected by an independent panel of judges. The results were announced at the Locality Awards ceremony on Tuesday 12 November.
Along with a trophy and video of their organisation and work, each Locality award winner also receive a £1,000 cash prize to invest into their community or organisation.
For more information about the awards visit https://locality.org.uk/