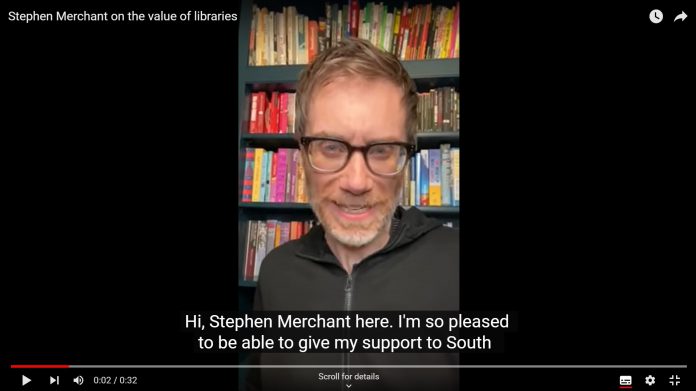 South Gloucestershire Council's Library service has teamed up with locally born international film and TV star Stephen Merchant, whose TV series The Outlaws is currently on BBC, to record some bespoke audio content.
Stephen, who is originally from Hanham, has kindly recorded a number of announcements for the libraries' Open Access service which enables users to visit the library seven days per week, and has also recorded a video where he highlights the importance of libraries.
Stephen said: "I was more than willing to support South Gloucestershire Libraries. The service has so much to offer – access to computers, a meeting place to connect with your community, somewhere to study and if you want to find out anything then the library is the place to go. But above all these great services it's their power to change lives through reading. I would encourage everyone to use their local library."
Cabinet Member for Communities and Local Place Cllr Rachael Hunt said: "It was really kind of Stephen to record the announcements and the video, we want our libraries to be welcoming places and having a well-known friendly voice with a very recognisable local accent is brilliant. Hearing his voice will bring a smile to our users faces – even when he tells them that the library hours are ending for the day!
"South Gloucestershire has one of the highest number of opening hours of English public libraries due to our use of technology which allows the libraries to be open for registered users when there are no staff present. Since we introduced Open Access, over 100,000 visits have been made during these hours with all of our libraries being open seven days a week."
During lockdown South Gloucestershire libraries provided a lifeline to residents – staff visited over 450 people in their homes, 500,000 books were issued, and 12,000 hours of IT were used, providing people with digital access which was so important for those without IT at home. The service went virtual to deliver online story times through Facebook, with some sessions reaching over 5,000 people, and the use of eBook, eAudiobooks and online magazines increased by 60 per cent.
The service is now slowly returning to normal, and the public can visit libraries during usual staffed and Open Access opening hours, and whilst there can also pick up Lateral Flow test kits. Parents and carers have welcomed the return of story times, for many children this is the first time they have sat down with other children to listen to a story and sing rhymes and for parents it's an opportunity to network with each other.
To hear Stephen, just visit a South Gloucestershire Library and ask the staff about registering for the Open Access service to use the libraries seven days a week. To view the video, visit https://www.youtube.com/watch?v=BGpI7ApzsqI
For more information visit www.southglos.gov.uk/libraries