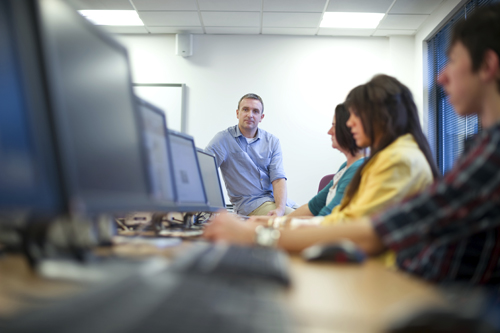 Young people from South Gloucestershire have started a new chapter in their education as the first Studio School to be built in the area has welcomed its first students through the doors.
The Digitech Studio School in Warmley specialises in digital, high tech and creative sectors and was opened by Cabot Learning Federation in South Gloucestershire in September.
While plans to build the new £4 million state-of-the art facility take shape, the Digitech Studio School is temporarily being housed in existing buildings at The Grange School in Warmley. Once complete, the new building will cater for 360 students and will be open for the start of the September term in 2016.
Studio Schools are a new type of school for 14 to 19-year-olds of all abilities with an emphasis on employability and enterprise skills. They seek to close the gap between what people need to succeed in life and the skills and knowledge that employers seek. Digitech will be working in partnership with Intel, Renishaw, Amey, E3, Ad-Lib, and many more national and local employers to deliver its curriculum.
As well as offering mainstream qualifications including GCSEs and A-levels, Digitech Studio School students will also take part in regular work experience and employer-led workshops and projects as part of their studies.
Principal Martina Veale said: "We are adopting a bold new approach to schooling at Digitech, one that involves project based learning with some fantastic employer partners from the creative, digital and high-tech sectors. In opening our new school our aim is a simple one. Inspire and develop the next generation of enterprising young people. So, we're immensely proud to be welcoming students to Digitech and very much looking forward to getting studies underway for our new term ahead."