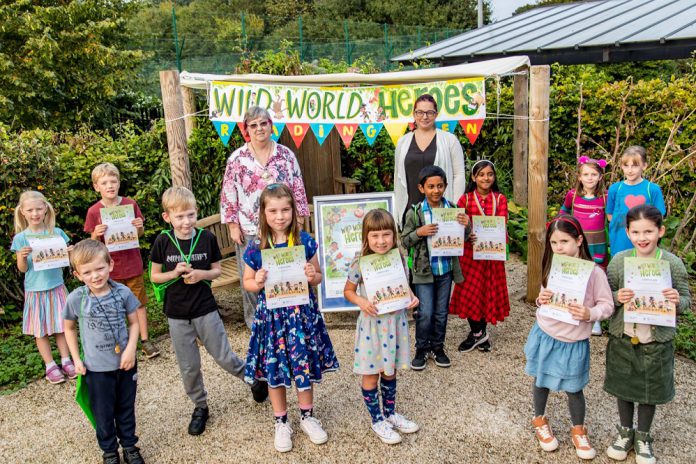 Over 4,000 children have taken part in this year's Summer Reading Challenge at South Gloucestershire Libraries and more than 400 participated through our Holiday Activity and Food (HAF) programme, which helps to keep children fed and active through the summer break.
For this year's Summer Reading Challenge, our Libraries and The Reading Agency partnered with World Wildlife Foundation (WWF) for 'Wild World Heroes', a celebration of nature and action for the environment.
Primary school children from across the district were encouraged to sign-up and read books they enjoy over the summer holidays with the objective of becoming more confident and independent readers. For the first time we also offered a mini challenge, specially designed for pre-school children, to encourage younger readers to take part.
The HAF Programme was extended this year thanks in part to our £1.2 million investment into the second phase of our trailblazing 'Recovery Curriculum', which was announced in our 2021-22 Budget and is helping our schools and children to bounce back from the effects of Covid-19.
To celebrate the success of everyone who has taken part this year's Reading Challenge, Cllr Ruth Davis, Chair of South Gloucestershire Council, and Cllr Rachael Hunt, Cabinet Member for Communities and Local Place, visited Winterbourne Library to meet a group of local children for a celebration event.
Cllr Ruth Davis, Chair of South Gloucestershire Council said "It's fantastic that so many children have taken part in Wild World Heroes and kept reading at their local library this summer. Children's reading can 'dip' during the long school holidays but taking part in the Summer Reading Challenge helps them to develop their reading skills and confidence, so that they return to school ready to learn.
"I've really enjoyed meeting some of the children and families who have taken part; it is clear how much they have benefited and how much they have enjoyed it. Congratulations to all the children who have completed the Challenge this year!"
South Gloucestershire Libraries worked in partnership with South Gloucestershire Playscheme and Juice Community Project, to deliver the Summer Reading Challenge for the children who took part in the HAF programme across the district.
Cllr Rachael Hunt, Cabinet Member for Communities and Local Place said: "Reading is an essential skill for children's education as well as supporting their wellbeing and development. After the impact of the pandemic on children and their families, this year's Summer Reading Challenge feels more timely than ever, and is a great opportunity for children to not only discover the joy of reading, but also find out more about important environmental issues. Thank you to the library service and all of the families who have taken part for helping to make this year's Challenge such a success."
Children signed-up at their local library to read six books over the summer holiday and received stickers to complete a 'Wild World Heroes' collector's poster. A medal and certificate were presented to those who completed it and as the Challenge progressed, children discovered how they can make a positive difference to the environment.
Lizzie, parent of Agnes (five) and Delilah (eight), who participated in the Challenge and attended the event, said: "The children couldn't wait to read all their books. They really enjoyed the characters within the challenge and choosing who to be and why". Agnes and Delilah added: "It was fun!"
Find out more about South Gloucestershire Libraries at www.southglos.gov.uk/librarychanges
Like us on Facebook www.facebook.com/sgloslibraries and follow us on Twitter @southgloslibs for updates on the services and activities on offer at your local library.