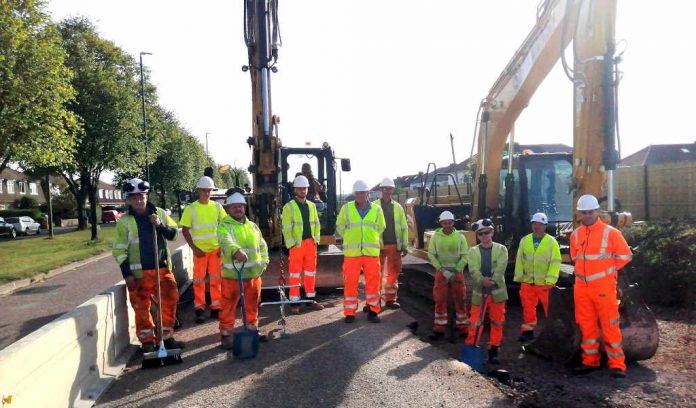 A study carried out independently by the Future Highways Research Group has concluded that the services delivered by South Gloucestershire Council's StreetCare team provide 'value for money'.
As well as recognising that we are delivering sector-leading value for money, they also highlighted our resilient services, which adapt to the needs of residents.
The research was completed in June and included analysis of the activities carried out by StreetCare, benchmarking against other local authorities, along with an independent peer review.
Our highly experienced StreetCare operatives carry out a range of specialist and frontline services across South Gloucestershire including street cleansing services such as litter picking and graffiti removal, highways maintenance, gritting, tree works, grounds maintenance of our parks, road verges and open spaces, pest control services, street lighting, plumbing and electrical repairs as well as structural engineering and design.
The complimentary findings are a testament to the work being done by everyone across the service area.
The research group were especially impressed with our 'one team' approach and close collaboration with partners, which ensures we can provide robust and resilient services, which adapt to the needs of residents and other service users. The report concluded that:
– we provide services efficiently and have a good track record of delivering service improvements and savings
– we manage our costs extremely well – we were found to offer one of the lowest cost and most efficient services in our peer group
– staff are clear about what they're doing and how their work supports the delivery of our priorities
– our dedicated procurement hub is a strength, ensuring staff and partners can focus on operational delivery.
Cabinet Member for Communities and Local Place Cllr Rachael Hunt said: "I would like to send a big thank you to all of our StreetCare staff for their ongoing efforts across South Gloucestershire which have resulted in these positive findings.
"We constantly strive to deliver high quality services at the very best value for money for our residents, so it's fantastic to see that our StreetCare department's hard work has been recognised as helping deliver such a well-respected, effective and proactive service.
"We have an ambitious plan to invest £174 million in our roads network over a four-year period and so it is reassuring to have this independent assessment that our teams can achieve our goals efficiently and effectively."
Head of StreetCare Mark King said: "We have a great team of staff in StreetCare who work across a really diverse range of roles. They are all passionate about the local area and as well as having great pride in their work, they always go the extra mile to ensure that our residents are satisfied.
"One of our strengths is the dynamic nature of our workforce, where we can allocate resources to exactly where they are needed the most. For example, the teams that are out resurfacing roads and filling potholes during the summer, will also go out gritting during the colder months."
For more information about StreetCare and their services visit www.southglos.gov.uk/streetcare