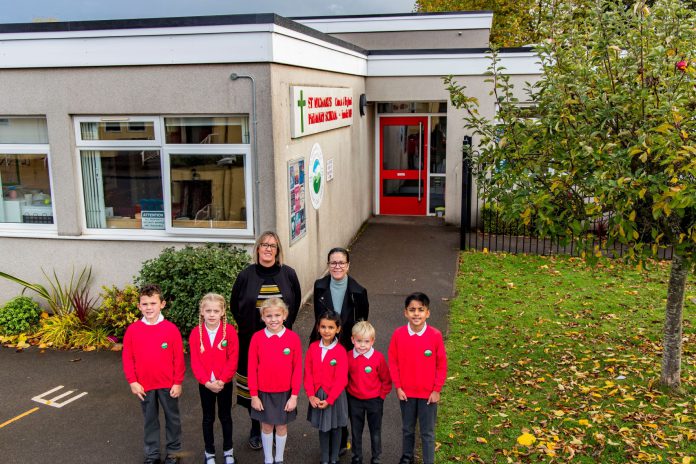 Local schools have benefitted from more than £2.3 million in renovation, refurbishment and maintenance work carried out over the summer and the first half of this term by South Gloucestershire Council.
As part of the council's commitment to ensuring all our young people get the best start in life and have good quality learning environments in which to thrive, it has invested a record £83 million since 2019 on building new and improving existing school buildings, including work to keep school buildings warm in the winter, cool in the summer, dry and as places where teachers can focus on helping young people to learn and grow.
More than 19 schools have had improvements made this year, including work on new or improved playgrounds at Pucklechurch Primary school and Kings Forest Primary in Kingswood, and major re-roofing work at St Michael's Primary in Winterbourne, St Stephen's Junior in Soundwell, Broadway Infants in Yate, Barley Close Primary in Mangotsfield and Hawksbury Primary.
Oldbury on Severn Primary School had new, modern heaters and LED lighting installed to reduce running costs and environmental impact, while Samuel White's Infant School in Hanham was partly rewired and also received new heaters.
Councillor Erica Williams, cabinet member with responsibility for schools at South Gloucestershire Council, said: "Our number one priority is to give young people in the area the best start in life and we are backing that commitment up by investing in the school buildings they learn in, with £83 million having been committed since 2019.
"The projects that have been delivered recently, both large and small, all make a big difference. They help provide good places to teach and learn and let school leaders focus on the most important things our schools are there to do, which is helping young people learn and grow and thrive and to achieve their fullest potential."
A full list of the school maintenance projects delivered since the beginning of the summer is below:
Oldbury on Severn, CofE Primary School: Repointing work to stone external walls (£27k)
Hawkesbury CofE Primary School: Roofing to old building (£150k)
The Park Primary School, Kingswood: Partition installed to main hall (£25k)
Kings Forest Primary School, Kingswood: Landscaping repairs to playground (£25k)
Old Sodbury CofE Primary: Toilet Refurbishment (£35k)
Barley Close Primary, Mangotsfield: Re-Roofing (£230k)
Little Stoke Primary School: Flooring, steelwork and ducting (£65k)
St Michael's CofE Primary School, Winterbourne: Re-roofing to flat roof areas (£200k)
St Stephen's CofE Junior, Soundwell: Re-roofing to flat roof areas (£250k)
St John's Mead CofE Primary School, Chipping Sodbury: Landscaping, tarmacking and water improvements ( £25k)
Crossways Infant School, Thornbury: Replace Roof Panels to old computer room (£45k)
Broadway Infant School, Yate: Re-roofing to flat roof areas (£200k)
Pucklechurch CofE VC Primary School: Forming new playground (£100k)
Samuel White's Infant School, Hanham:  Part Rewire and Replacement of Heat Emitters (£250k)
St Peter's Primary School, Pilning: Replacement of heating controls (£70k)
Oldbury on Severn CofE Primary School: New heaters and LED lighting (£198k)
Hanham Abbots Junior School: Replace hot and cold water services pipework (£139k)
Various schools: Replace obsolete electrical switch gear and distribution boards (£100k)
Various schools: Upgrades to kitchen gas and ventilation systems (200k).