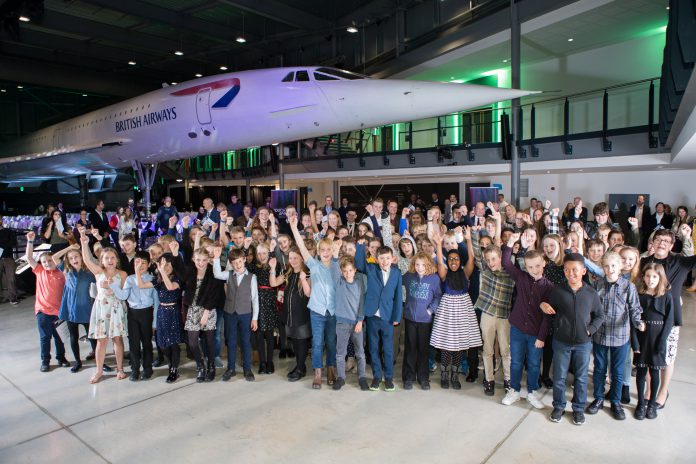 Outstanding pupils from primary, special and secondary schools in South Gloucestershire have been recognised at an event celebrating the achievements of students in science, technology, engineering and maths (STEM).
The South Gloucestershire Education Awards 2019 took place at Aerospace Bristol on Friday 11 October to celebrate the outstanding educational achievements and successes over the past year of more than 120 pupils from schools in our area.
2019's awards were totally focused on achievement and contribution to STEM, an area of priority for us as a local authority, and this year we have extended the awards to include pupils from primary, as well as special and secondary schools.
The winners and guests, including parents and carers, were invited to Aerospace Bristol for the awards, which were sponsored by YTL, UWE and Taylor Wimpey. The event offered an opportunity to acknowledge the hard work of pupils across Key Stage 2 and 4 in STEM subjects.
Those receiving awards were nominated directly by heads and teachers of their schools. The 120 award winners, covering over 60 different schools, included the following examples:
Year 5 nominations…
"She has faced a number of challenges in her young life. This has not held her back instead she has used it as an opportunity to show the world what she can do."
"Being a naturally strong writer, she is able to bring her creativity into science lessons and script beautifully-written narratives that give a detailed description of various scientific processes."
"Showed such a curious and inquisitive nature in all of their science and maths lessons. Stood out in the Primary Engineer project with their problem solving skills and hardworking attitude to create a working car."
Year 11 nominations…
"Amazing effort and dedicated hard work which was rewarded by amazing results in all three Sciences at GCSE."
"Our most outstanding GCSE student of her year. Her achievement of 10 Grade 9s is exceptional, but is also richly-deserved for the consistency of her effort, and her never-failing positivity in all forms of learning."
The awards evening included two guest speakers – Tim Harrison, University of Bristol ChemLabS School Teacher Fellow and Outreach Director, and Rob Eastaway, an English author who is active in the popularisation of mathematics and was awarded the Zeeman medal in 2017. Also in attendance were representatives from the award sponsors which included: Dr Marc Griffiths – Executive Dean and Pro Vice-Chancellor for the Faculty of Health & Applied Sciences at UWE; Amy Tout – Marketing Manager for YTL Developments and Ralph Hawkins – Managing Director of Taylor Wimpey Bristol.
Certificates, a shopping voucher and a specially designed mug were presented to each award winner by the guest speakers and the sponsors, who were joined on stage by South Gloucestershire Council's Cabinet Member for Schools, Skills and Employment Cllr Erica Williams.
Cllr Williams said: "I was delighted to be part of this celebratory event and it was inspiring to hear of the academic successes of those attending.
"Raising school standards is our highest priority and we want to recognise those who are performing well and driving improvements. These students, their teachers and school staff have clearly worked really hard and deserve this recognition for their positive efforts.
"Well done to all of our winners, who are a testament to the fact that, whatever level of study you are in, having the right attitude and putting in hard work always pays off."
Dr Marc Griffiths, Pro Vice-Chancellor and Executive Dean for the Faculty of Health and Applied Sciences at UWE Bristol, said: "We are delighted to once again be a sponsor of the South Gloucestershire Education Awards 2019. It's always so inspiring to hear about all the academic achievements of the nominees and winners, and to see such positive role models being recognised for their successes. On behalf of UWE Bristol, I would like to congratulate them all on their hard work, commitment and passion for learning."
Amy Tout, Marketing Manager at YTL Developments, said: "It was a real privilege to support the next generation of pioneers and innovators of South Gloucestershire. Filton Airfield carries over 100 years of aviation heritage, and is a place where pioneers and innovators transformed British Aviation and Engineering. As work begins to transform Filton Airfield into a thriving new community for Bristol, we were delighted to support the community and celebrate the academic successes of this next generation."
Ralph Hawkins, Managing Director at Taylor Wimpey Bristol, said: "We are committed to working with young people and supporting future talent across the region, so it was wonderful to celebrate the pupil's achievements on the night. Congratulations to all of the entrants and winners on your success and on behalf of everyone at Taylor Wimpey Bristol; well done."