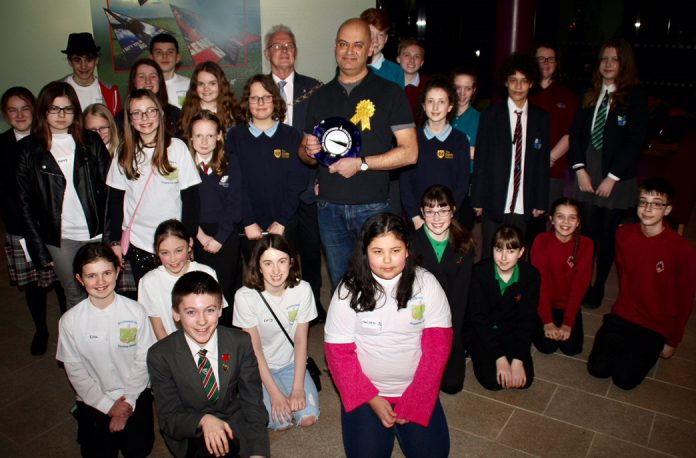 Fantasy fiction novel 'Shadow Magic' has been chosen as the 2018 winner of South Gloucestershire's literature prize for young people the Concorde Book Award.
Author Sarwat Chadda, writing under the pseudonym Joshua Khan, beat off competition from five other young people's fiction titles to claim the coveted award.
Once again this year's winner was chosen after an exciting district-wide reading challenge in which hundreds of young people from public and school library reading groups throughout South Gloucestershire read their way through a shortlist of titles.
Votes were cast on World Book Day and the winner was announced last night (Tuesday 6 March) at a gala event at the Bristol and Bath Science Park at Emersons Green.
Chair of South Gloucestershire Council Cllr Ian Blair presented the award. He said: "I'm thrilled to have been involved with the Concorde Book Award this year. Congratulations to all the young people who have taken part, their enthusiasm and love for reading really is inspiring. My thanks go to South Gloucestershire's libraries and schools who have worked together to organise this award, which celebrates young people's reading and gives young people a stage to share their interests and achievements. Finally, congratulations to author Sarwat Chadda for his well-deserved win."
Receiving the award, 'Shadow Magic' author Sarwat Chadda said: "Wow, what a glorious day! Big thanks to all the readers!"
The awards event saw a number of young people give presentations about their favourite books and conduct interviews with the shortlisted authors who attended (Ross Welford, Kathryn Evans, Sophie Cleverly and Sarwat Chadda). The shortlisted authors also each nominated an item to go in to 'Room 101' and the students voted for the winner.
The Concorde Book Award is a long-running 'young people's Booker' run by South Gloucestershire schools and public libraries in which groups of young people read a shortlist of novels. They are then encouraged to join a reading group, whether at school or in a local library, to read six books and talk about them with other group members, before voting on their favourite title.
The scheme aims to promote a love of reading among 11-14 year olds (Year 7 to 9 secondary school students, Key stage 3), and thousands of young people have taken part since it was launched in 2007.
The Award is unique in being one of the few literary awards that involves children and young people all the way through from choosing the longlist and the winner, to giving presentations and author interviews at the annual award ceremony.
Shortlisted books are made available from South Gloucestershire public and school libraries, and voting takes place on World Book Day in March each year.
This year's shortlisted titles were 'Generation Next' by Oli White; 'More of Me' by Kathryn Evans; 'Scarlett and Ivy: The Lost Twin' by Sophie Cleverly; 'Shadow Magic' by Joshua Khan; 'The Bone Sparrow' by Zana Fraillon; and 'Time Travelling with a Hamster' by Ross Welford.
Participants are also encouraged to contribute to a dedicated online forum as part of the process of sharing views on each book http://concorde2018.edublogs.org/. There is an award for the group that makes the best contribution to the blog.
For more information on the Concorde Book Award visit www.southglos.gov.uk/concordebookaward, www.facebook.com/sgloslibraries or find us on Twitter @southgloslibs