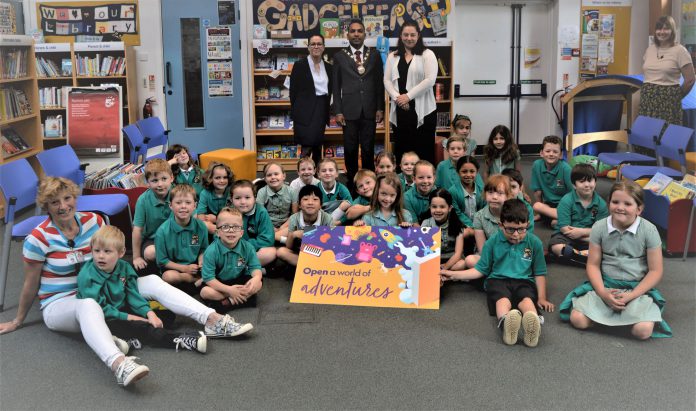 All pupils in Reception and Year 1 at South Gloucestershire primary schools will be given their own library card this month as part of a drive to encourage youngsters across the district to read more for pleasure, as well as accessing wider library facilities and leisure centres.
The aim of the programme, agreed as part of this year's council budget at a cost of £40,000 per year, is to help support the council priority of giving every child the best start in life. The library cards will be rolled out over the next four years, with all pupils in Year 6 receiving their own cards in the autumn term to help ensure that momentum and interest in reading is carried into the secondary phase.
Over the next four years every child at primary school will have received a card, unlocking a host of learning and leisure opportunities with 7,000 children receiving cards each year. This year, pupils in Reception and Years 1 and 6, around 10,000 children, will receive their cards. In each of the next three years they will be provided to all pupils in Reception and Year 6 classes.
Library access will give children instant opportunities to borrow books free of charge. In addition, children's library cards can also be used at any of the South Gloucestershire Active Lifestyle Centres as well, which will help support their wider physical and mental health and wellbeing.
The Chair of South Gloucestershire Council, Councillor Sanjay Shambhu and Cabinet Members for Schools and Communities respectively, Councillors Erica Williams and Rachael Hunt, joined pupils and staff from Emersons Green Primary School at Emersons Green Library this week to celebrate the new scheme and explore all the opportunities on offer at the library.
Councillor Hunt said: "This is an important four-year investment by the council in the development of every child in South Gloucestershire. We believe it will have an impact in increasing the levels of literacy for children, as well as encouraging a love of reading. It will work alongside other initiatives that the Council is supporting through its Recovery and Innovation fund.
"We know that for so many families using a library can unlock new worlds to enjoy, bringing confidence and educational benefits. By helping to open the door to all children and their families, we hope that every child in South Gloucestershire will visit their library and discover a huge range of books as well as the activities that are taking place during the summer holidays as part of the Summer Reading Challenge".
Head teacher of Emersons Green Primary School, Karl Hemmings said "This is an exciting initiative by South Gloucestershire Library service. As a school we know how important reading for pleasure is for our children. This link between the school and the library service will have a major benefit to every child in this school."
For more information about this scheme please see www.southglos.gov.uk/mylibrarycard