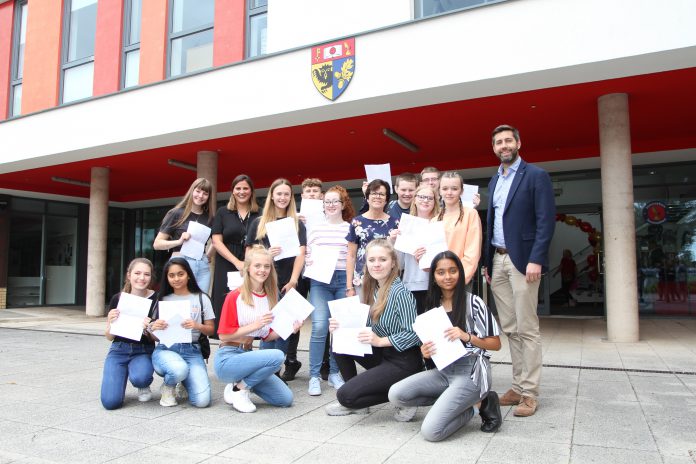 Students in South Gloucestershire are celebrating success in their GCSE results and we are pleased to be able to share some of the many positive stories from individual schools and multi-academy trusts.
At this stage all the results are provisional but we are pleased that both Bradley Stoke Community School and Yate Academy are posting some very strong overall results this year across the board.
Yate Academy has exceeded expectations yet again and has achieved outstanding GCSE results which are even more impressive than their 2018 results. The results are not only the best in the school's history but will put Yate Academy amongst the best schools in the country.
Headteacher Isabel Ambrose said: "I am absolutely thrilled with these well-deserved GCSE results. The hard work from students and staff, along with the support from their families has made this momentous achievement possible. I am so very proud that the Academy has increased outcomes in all areas and sustained success over the last two years. I have loved working with this particular cohort and I wish them the very best of luck for their futures."
We are also delighted with Abbeywood Community School, Sir Bernard Lovell Academy and Chipping Sodbury School which have all made real improvements in students achieving Grades 4-9 and Grades 5-9 alongside improved progress scores.
Today's results represent a huge amount of hard work and commitment by students, staff and school leaders across all seventeen secondary schools. Our thanks also go to parents for supporting their children throughout the examination period to ensure they secure success.
Cabinet Member for Schools, Skills and Employment Councillor Erica Williams and Leader of South Gloucestershire Council Cllr Toby Savage joined students at Yate Academy and Marlwood School this morning as they collected their results.
Cllr Williams said: "I want to congratulate all our students who are collecting their results today.
"It is always a nervous moment to open that envelope but we know that they have worked extremely hard to achieve these grades and should be very proud of their individual successes. Our thanks go out to all pupils and school staff for their hard work and dedication to achieve these excellent results.
"Going forward is a big step for students after their GCSEs, whether they are moving on to sixth form, college, apprenticeships or employment and I want to wish them all the best of luck whatever they go on to do."
She added: "Improving school standards is the Council's number one priority and it is important to learn from what our more successful schools like Yate are doing. We have the answers in South Gloucestershire and we need to get better at spreading that best practice across the district."
We would remind students and parents that if they are still unsure about their next steps, Post 16 advice and guidance is available through their school, at College, via Careerpilot online or via the National Careers Service Helpline for Teenagers on 0800 100 900.