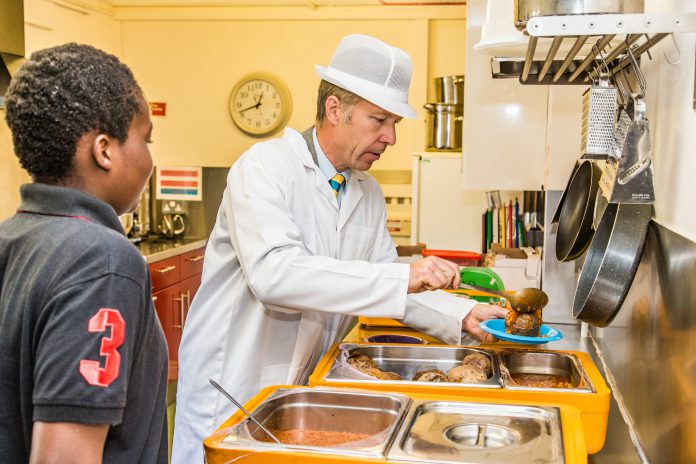 We are continuing to serve hundreds of healthy meals to young people from low-income families through the school summer holidays.
The programmes provide 5 to 13-year-olds with free, healthy food and physical activities and are being hosted at various locations across South Gloucestershire, following a successful launch last year.
Southern Brooks Community Partnerships are running 'Kick Start' for 5-9 year olds in Almondsbury, and Juice Community Project are running 'Fit and Fed' at Barley Close, Staple Hill and Cadbury Heath for 10 to 13-year-olds, as well as other locations.
Both will be organising sports and activities and are working with partners to provide the food – Brooks Café for Severn Beach and the council's school catering division Integra for Barley Close, Cadbury Heath and Staple Hill.
Integra Catering are providing staff and catering equipment and are working with local suppliers (who are providing food at zero to low cost) to serve the meals.
These are typically a balanced two course dinner with a vegetarian option available. The children then go and do activities with qualified coaches in a secure environment. This will include a range of activities, including football, den building and team games.
We are also providing packed lunches for a summer school held at Kingswood Library every Monday throughout the holidays that helps children with their reading.
Cabinet Member for Adult and Public Health, Cllr Ben Stokes joined the programme at Pendennis Flats in Staple Hill this week, he said: "We are happy to be supporting such a worthwhile scheme to provide healthy meals and activities for children during the school holidays. This year's initiative has really built on the success of last year and it has been a pleasure to come here today and help out.
"The holidays can be a tough time for some families as they need to provide more food than during term time as well as managing activities and child care. Programmes such as these can really help to relieve the pressure, whilst ensuring that children receive a balanced meal and enjoy some physical activities."
South Gloucestershire Council's contribution is funded by our Public Health inequalities budget and Health Inequalities grants.
Anyone interested in booking on to the programme will need to register direct with Southern Brooks or Juice.