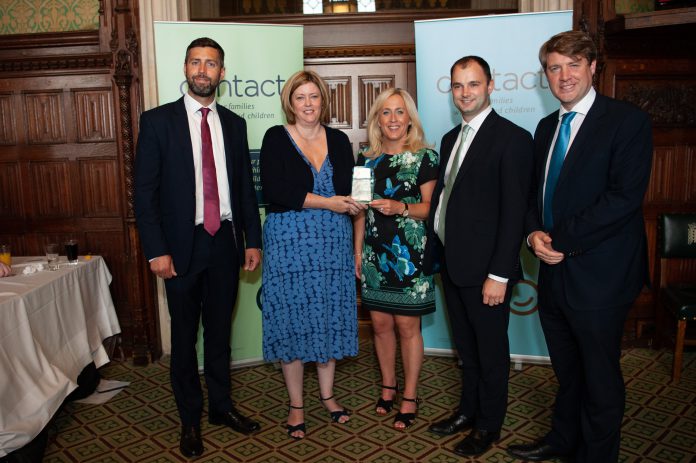 South Glos Parents & Carers, a group of local parents, were announced winners in disability charity Contact's awards on Monday 8 July.
The South Gloucestershire-based Parents and Carers Forum won the 'Excellence in Parent Participation Award' during a ceremony at Westminster. They were praised for their work to provide a hugely supportive community for families with disabled children in the area.
Representatives from the forum, Rachel Trueman and Leonie Pollinger, attended the London event to receive the award and were joined and congratulated by Leader of South Gloucestershire Council, Cllr Toby Savage and local MPs Luke Hall and Chris Skidmore.
Councillor Savage said: "Congratulations to everyone at South Glos Parents and Carers Forum for winning this very well-deserved award. It was great to join them at the award event and see them recognised for their dedicated hard work to help improve the lives of local children, young people with additional needs and their families.
"As parents and carers of SEND children or young adults themselves they have a real and in-depth understanding of the issues faced and provide highly valuable support to 0-25 year olds in South Gloucestershire."
Julie Bye, a parent who nominated the group, said: "They are a force for change, but also hugely supportive. They run a counselling service and training for parent carers to empower them to get jobs."
Contact, the charity for families with disabled children, received a staggering 500 nominations in their awards celebrating the remarkable, but often unseen, things UK families with disabled children do. The nominations were whittled down to 22 finalists who were at the ceremony where winners of the seven categories were announced.
Amanda Batten, CEO of charity, Contact says: "Huge congratulations to South Glos Parents and Carers for their Excellence in Parent Participation win. They have gone the extra mile in bringing the voices of local parent carers together and providing a supportive environment for parents
"We are delighted that our awards provide an opportunity to recognise the wonderful achievements of families with disabled children. Each and every one of those nominated and shortlisted are remarkable and should be valued and celebrated."
Chris Skidmore, MP for Kingswood, said: "We were delighted to be able to share this special moment with Rachel and Leonie, two brilliant South Gloucestershire carers. This award win reflects all the excellent work they do to support children and young people in our local area and it was fantastic to be a part of the event and meet everyone."
Luke Hall, MP for Thornbury and Yate, said: "It was an extremely moving and exciting afternoon and I want to applaud South Glos Parent Carers and all the families with disabled children at Contact's Together at 40 awards ceremony. It's important to remember that families with disabled children give back to our community and economy in so many different ways and it was fantastic to be able to celebrate this."