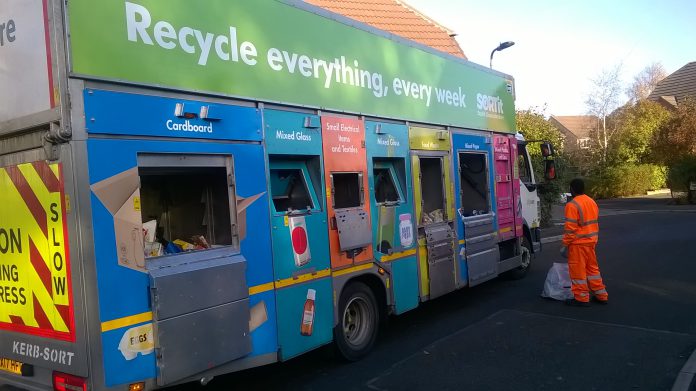 South Gloucestershire's waste and recycling collections will not be taking place on Christmas Day (25 December), Boxing Day (26 December) or New Year's Day (1 January), so there are some changes to collection days as detailed below.
If your collection day would normally be…                            It will take place on…
Tuesday 25 December (Christmas Day)                          Thursday 27 December
Wednesday 26 December (Boxing Day)                          Friday 28 December
Thursday 27 December                                                     Saturday 29 December
Friday 28 December                                                          Monday 31 December
Tuesday 1 January (New Year's Day)                              Thursday 3 January
Wednesday 2 January                                                       Friday 4 January
Thursday 3 January                                                          Saturday 5 January
Friday 4 January                                                               Monday 7 January
Monday 7 January                                                             Tuesday 8 January
Tuesday 8 January                                                            Wednesday 9 January
Wednesday 9 January                                                       Thursday 10 January
Thursday 10 January                                                         Friday 11 January
Friday 11 January                                                              Saturday 12 January
Collections return to normal from Monday 14 January 2019.
To check the collection dates for your area visit www.southglos.gov.uk/collectionday
Our Sort It recycling centres will also be closed on Christmas Day, Boxing Day and New Year's Day.
Christmas trees
If you have a real Christmas tree please recycle it.
Collection:
If you are subscribed to green bin garden waste collection, cut up the tree and put it in your green bin. Or put the whole tree next to your green bin if it is under 6ft tall.
Buy a garden waste sack from your local library or Marshfield Country Stores (£2.10) and attach it to your tree with string (no plastic). If your tree is over 6ft tall, please cut it in half. Book a collection on the website, call us on 01454 868000 or visit a One Stop Shop.
Drop it off:
Take your tree to your local Sort It recycling centre (www.southglos.gov.uk/sortit). Make sure your vehicle is registered and check the opening times before you travel.
Remember
Remove all decorations including loose tinsel. We cannot recycle your tree if it has decorations on it.
If your tree is more than 6ft tall, please cut it in half or cut it up. We cannot fit your tree safely on our vehicle if it is over 6ft tall.
Extra waste and recycling
Many of us have extra visitors over the festive season and this means extra waste. The good news is that most of it can be recycled using the weekly recycling collection.
Top tips for managing your waste this Christmas:
Check for collection day changes
Sort your recycling in the containers so our crews can collect it easily
Save space and keep your recycling tidy between collections by flattening and cutting up large pieces of card and squashing plastics and cans
Use a plastic bag, compostable bag or newspaper to line your food bin to help keep it clean
Avoid extra food waste by planning your meals for the festive season and using up leftovers.
For more tips visit www.lovefoodhatewaste.com
For more information about recycling, waste and the Sort It centres in South Gloucestershire visit www.southglos.gov.uk/sortit