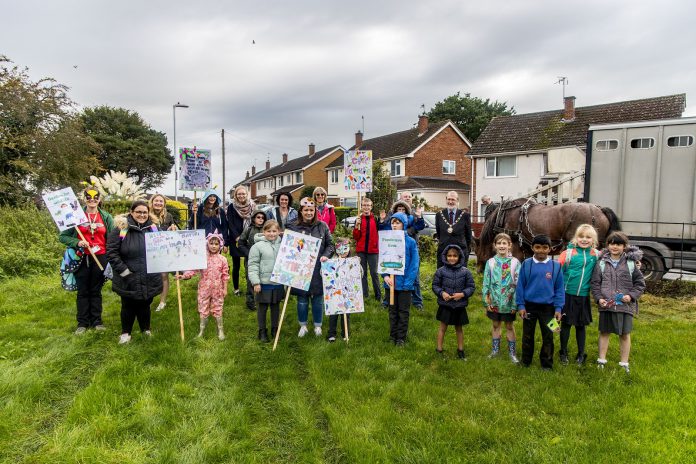 School children in South Gloucestershire put on a wildlife show to support South Gloucestershire Council's mission to get more people involved in connecting habitats to help boost long-term nature recovery.
Children at ten schools in the area have been supporting the council's Common Connections project – a four-year grassland habitat improvement project along the East Bristol urban fringe. The project's aim is to help tackle the climate and nature emergency by restoring lost habitats, which has so far involved planting nearly 1,000 small hedge plants for new hedgerows, more than 2,200 wildflower plugs creating meadow areas for pollinators and planting more than 250 shrubs.
Through the Common Connections project, the council is launching a second community nature reserve scheme for families in and around Willsbridge Mill, near Bitton, to make their gardens more wildlife friendly. Residents can get involved by growing more grass, trees and shrubs to help support nature and other species. Sign up by visiting https://www.southglos.gov.uk/willsbridge-nature-reserve
Children at Parkwall Primary School in Cadbury Heath designed masks with the help of the Commons Connections team and helped create colourful placards to remind them about the importance of protecting habitats for local wildlife. The children were joined by Chair of South Gloucestershire Council Councillor Mike Drew as they followed a nature trail from the school to WIllsbridge Mill, where they performed an original song 'The Wildlife Show' in support of wildlife gardening to launch the Willsbridge community nature reserve project. The song reflects on protecting our favourite local species as part of the council's Climate and Nature Emergency vision.
Councillor Drew said: "It was fantastic to see the young people's creativity, passion and enthusiasm for helping to protect our natural habitats here in South Gloucestershire.
"We are creating a new community nature reserve and are encouraging local families to play their part by cutting their lawns less often, sowing wildflower seeds and meadow grasses, growing native plants and avoiding the use of pesticides and insecticides. People can also help out by building log piles, compost heaps or bug hotels, and creating access holes in their fences for hedgehogs."
The Common Connections project launched in summer 2022, with a large-scale wildflower meadow planting event at Siston Common. In partnership with Made Forever @ Kingsmeadow, over 300 volunteers from the local community helped to plant thousands of wildflower plug plants. Over 300 tree whips have also been planted across several local green spaces, with the help of volunteers from Kingswood Climate Action Group, Friends of Siston Common, local town and parish councillors and other community members.
The council's targets for the project for the next few years are ambitious and include:
120,000 square metres improved wildflower rich grassland
140,000 square metres improved woodland pasture
More than 6,000 new trees
14 orchards
9 new and 9 improved ponds
167 nesting boxes
2,000 households on board (tree whips, wildflower seeds, nesting boxes).
The project is funded by £125,000 from the council's climate action plan budget along with £998,973 sourced from the West of England Combined Authority and £135,000 in grants.