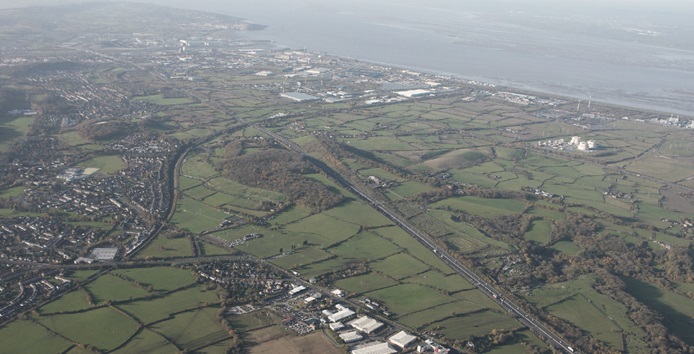 South Gloucestershire Council's Cabinet has given the green light to progress the next stage of the Avonmouth Severnside Enterprise Area (ASEA) ecological mitigation and flood defence project.
This is a major step in the development of the ASEA which aims to bring thousands of new jobs to the area. Cabinet approved the Council's financial contribution of up to £31.95m for the construction of flood defences and ecology mitigation works within the ASEA, which crosses the South Gloucestershire and City of Bristol boundary. The decision to proceed to the second phase of the project will see the detailed design and build of the proposals.
We are working alongside Bristol City Council and the Environment Agency to improve flood defences and create new habitats for important wildlife species in the area. The project will deliver 17km of new flood defences that will protect local communities and reduce flood risk to at least 2,500 homes and businesses, now and into the future. It will also encourage businesses to invest in the Avonmouth Severnside Enterprise Area, helping to support the creation of 12,000 new jobs by 2026.
In close collaboration with ecological experts, we are working to ensure that a thriving environment will be established in the area for people and wildlife to last the rest of this century and beyond. A new wetland habitat of at least 80 hectares will be created at Northwick and Hallen Marsh to help protect the internationally important bird species that live on the Severn Estuary. This new wetland habitat will be an increase and enhancement for any land lost through the ASEA's development, and the planting of native mixed broadleaf woodland and hedgerows will more than offset the loss of any existing trees and hedgerows from the project construction works.
The proposed flood defence upgrade involves raising existing earth embankments and walls as well as innovative techniques using glass panel flood barriers to ensure views out to the Severn Estuary are retained. The new flood defences will allow for anticipated rising sea levels and will ensure that any flood risk is reduced for at least 60 years.
Leader of South Gloucestershire Council with responsibility for economic development Cllr Toby Savage said: "Today's decision secures this critical piece of infrastructure at one of the region's key enterprise areas, which will have wide reaching benefits. This project will reduce the likelihood of flooding and disruption to 2,500 homes in and around Pilning and Severn Beach, as well as helping bring thousands of new jobs to our area. We are planting half a hectare more trees than are being removed and the new coastal wetland habitat will be one of the most important in the country. This work will also offer benefits for users of the coastal path, with improved access for wheelchairs and pushchairs."
Wessex Area Director Nick Gupta of the Environment Agency said: "By pooling resources and working in collaboration we can build improved flood defences to better protect more than 2,500 homes and many businesses for decades to come at the same time as protecting biodiversity and the environment."
South Gloucestershire Council and Bristol City Council have both recently passed 'resolutions to approve' planning permission for the project (17km of improved sea defences and at least 80 hectares of wetland areas for ecological mitigation). Council planning teams will now develop planning conditions before full planning permission is given.
For further information visit www.insouthglos.co.uk/enterprise/avonmouth/flood-ecology/