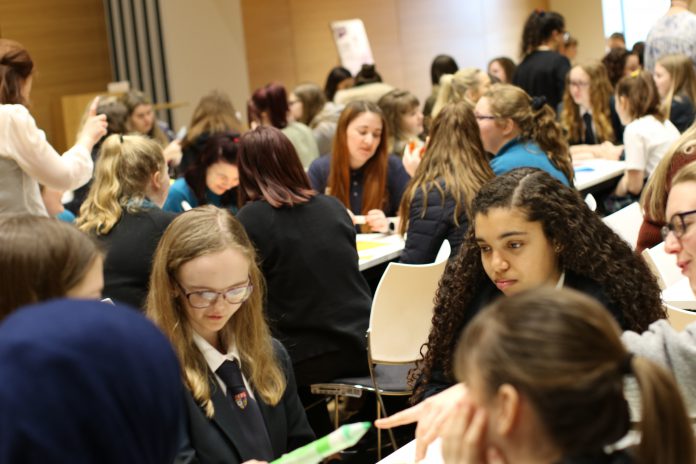 South Gloucestershire Council (SGC), University of the West of England (UWE Bristol), the Aerospace Bristol museum and Southern Brooks Community Partnership (SBCP) teamed up to host a workshop on Friday 1 March to engage young people from South Gloucestershire in the history of women's rights and to share inspiring local women's stories.
As part of the workshop the young people in attendance created exhibition pieces that will be on display at UWE Bristol's Exhibition and Conference Centre on International Women's Day (Friday 8 March).
2018 marked the centenary of the Representation of the People Act, which allowed some women to vote for the first time. To recognise this anniversary SGC has been running a Heritage Lottery funded project over the last year entitled Inspiring Women: the Legacy of the First World War.
Through this project, with support from local heritage organisations, nominations have been collected for local inspiring women whose stories highlight women's achievements in South Gloucestershire, including the role women have played in the development of industry and STEM, culture, sport, local politics, public service and social justice. Some of the nominated women were then featured in our travelling 'Inspiring Women exhibition' which aims to inspire women from all walks of life, promoting an understanding of the legacy and value of women's contribution over the last 100 years and how this has influenced our lives today. The exhibition will be on display at Staple Hill Library from 12 March.
As a culmination to this project the four partners came together for a workshop on Friday 1 March to engage young people from four local schools: Digitech Studio School, Bradley Stoke Community School, Patchway Community School and Winterbourne Academy. Aerospace Bristol hosted the all-day session and UWE Bristol's Regional History Centre (RHC) provided historical consultancy and support.
During the workshop 100 young people explored how women's rights have changed since the First World War and met some of the inspiring local women who were nominated for the exhibition. The young people then worked to develop exhibition pieces which reflected their reactions to the session and displays their experiences as young women today in South Gloucestershire.
These exhibition pieces will be on display on International Women's Day at the University of the West of England's Exhibition and Conference Centre. Influential decision makers from around South Gloucestershire have been invited to attend the event to hear from the young women and learn about the inspiring women from the exhibition.
Cllr Erica Williams, Cabinet Member for Housing Delivery and Public Health at South Gloucestershire Council, said: "Our Inspiring Women exhibition has been travelling across venues in South Gloucestershire and has been very well received at every location. It's important that we share these powerful stories and help to enthuse our inspirational women of tomorrow.
"It was a pleasure to attend the workshop and hear the young people's personal thoughts and reactions to the history of women's rights, and to see them create fantastic new exhibition pieces of their own."
Professor Jane Harrington, Deputy Vice Chancellor & Provost at UWE Bristol said: "I was really delighted to be asked to be involved with this event as part of International Women's Day. It is really important for young women to learn about inspiring women from the region in which they live. These women act as role models for them, help them to understand how anything is possible and to imagine a future where they inspire others. Learning about how life has changed for women over the last 100 years and reflecting on your own experiences is really powerful and I hope that they all leave the event inspired and determined to be inspiring in their futures."
Katherine Martin, Learning Officer at Aerospace Bristol, said: "Aerospace Bristol aims to inspire young people in our region through the stories and achievements of local people. We were delighted to be involved in the organisation and hosting the sessions for local schoolchildren and were very impressed by the work they created and the experiences they shared."
Caroline Browne, project coordinator at Southern Brooks Community Partnerships, said: "Through our International Women's Day event we want to amplify the voice of local young women, giving them a chance to be inspired by the past, and share their aspirations for the future."
For more information and to see the inspiring women from the exhibition visit www.southglos.gov.uk/inspiringwomen