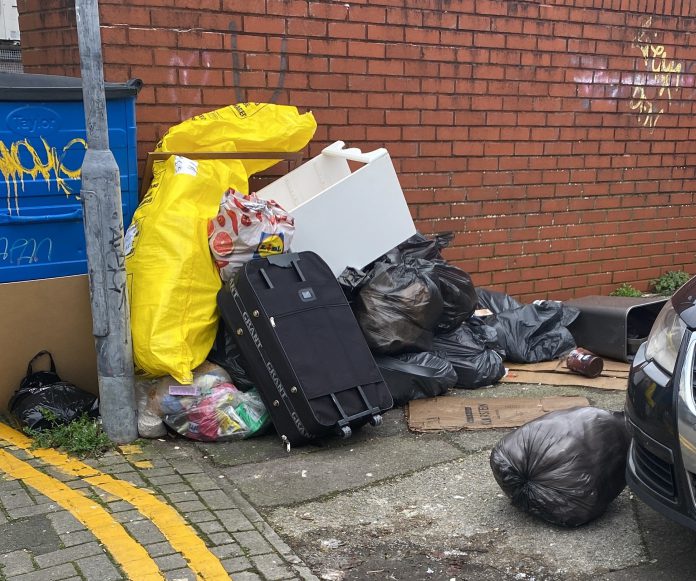 A Keynsham man has been ordered to pay a total of £1,193 after South Gloucestershire Council prosecuted him for fly-tipping waste in Kingswood, South Gloucestershire.
Arsid Hoxhaj, 27, of Carpenters Lane, Keynsham, Bristol, pleaded guilty to the offence of fly-tipping when the case was heard at Bristol Magistrates Court on Monday 17 October. He was fined £416, along with £679 clear up costs, £56 in compensation and a £42 victim surcharge making a total of £1,193.
The court heard that South Gloucestershire Council's Street Enforcement officers were on patrol at Halls Road in Kingswood on 21 February 2022 when they discovered a large quantity of household waste fly-tipped at the base of a lamp post.
The officers took photographs of the waste and discovered an address label on some packaging relating to a resident of Carpenters Lane, Keynsham. The investigation was passed to the council's Environmental Enforcement Team and following their enquiries Arsid Hoxhaj was identified.
Hoxhaj attended South Gloucestershire Council's Yate offices for a voluntary interview on Monday 27 June. During the interview he admitted placing some of the waste, but not all of it, claiming the remainder had been placed there by other people in the area. He stated that he was moving from an address in Regent Street, Kingswood to an address in Keynsham, sometime towards the end of February, although he did not know the exact date. He said the move had been completed using only his car and involved him making several trips with personal items. Some yellow packaging identified in one of the photos was a carpet/rug that had been delivered to his new address, and he said that he had brought the packaging back to the Regent Street address and then put it out onto the street by the lamp post along with a suitcase.
Hoxhaj stated that the waste had been deposited by the lamp post as that was where he usually put his household's domestic waste out for collection every week and due to the theft of his black bin, he had to leave it out on the street. When asked if he had reported the theft or loss of his black bin, he confirmed that he hadn't on this occasion but on a previous occasion he had and was provided with a replacement. He confirmed that he had no permission to fly-tip his waste at the location. He said that he was unaware of the other means by which he could discard of his waste and his expectation was that the council would remove it.
Councillor Rachael Hunt, cabinet member responsible for environmental enforcement at South Gloucestershire Council, said: "There is no excuse for fly-tipping, it has a negative impact on our communities and local environment, and we all have a responsibility to make sure that our waste is disposed of in the appropriate manner.
"In this case, taking the rubbish to the local recycling centre would have meant it was disposed of lawfully. It's simply unacceptable to carelessly dump waste in this way and expect others to clear the mess left behind.
"Our zero-tolerance approach means that anyone who fly-tips in South Gloucestershire is five times more likely to be prosecuted than anywhere else in the country. Our award-winning environmental enforcement team has a 100 per cent record of securing successful prosecutions for this type of offence and if you fail in your duty of care and allow rubbish to be fly-tipped here, you can expect to be caught and brought before the courts."
Unwanted goods and household or garden waste can all be disposed of at no cost via the council's Sort It recycling centres www.southglos.gov.uk/sortitcentres
Residents who see illegal fly tipping are encouraged to report it by contacting the council's StreetCare helpdesk on 01454 868000, emailing streetcare@southglos.gov.uk or visiting www.southglos.gov.uk/flytipping