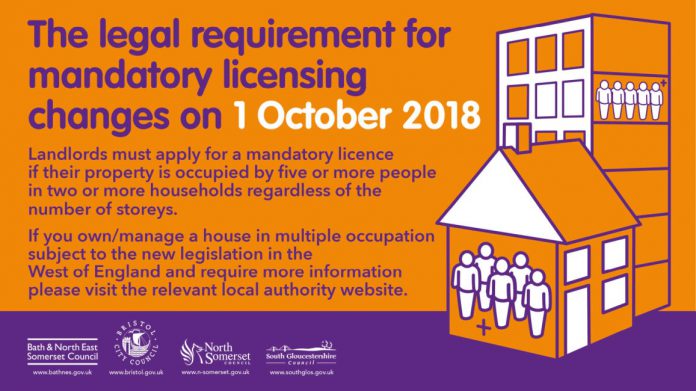 A new national licensing scheme is set to improve standards for tenants living in privately rented properties in South Gloucestershire.
All landlords or agents who rent shared accommodation will be required to apply for a licence from South Gloucestershire Council from 1 October 2018, if they meet the following criteria:
their house or flat is lived in by five or more people
from two or more families
who share rooms like kitchens, bathrooms or living rooms
it will not matter how many storeys or floors there are in the property.
Shared houses or flats with five or more unrelated tenants, or a house containing five or more bedsits are examples of the properties which will be affected.
These properties will need to meet the current conditions and comply with standards, including minimum room sizes and new rules on refuse and recycling.
South Gloucestershire Council's Cabinet Member for Communities and Tourism, Cllr Paul Hughes, said: "Homes of Multiple Occupancy (HMO) are really important within the private rental sector as they can provide an affordable option compared to some other private rentals.
"While most landlords in South Gloucestershire provide good quality accommodation, the changes to the scheme can only help to tackle poor practice such as failing to meet acceptable safety standards and overcrowding.
"For the first time mandatory licence requirements have included conditions to strengthen the role of landlords in ensuring adequate waste facilities are provided and that tenants manage their waste and recycling without it accumulating on site and affecting the local area."
Landlords or agents who rent this type of accommodation are encouraged to submit their application as soon as possible and can apply through our website where further information is available.
Those that do not apply for a licence or temporary exemption by 1st October 2018 will be committing a criminal offence. Other consequences include:
Not being able to gain possession
Risk of repaying tenants up to 12 months' rent.
In the worst circumstances the council can take over management.