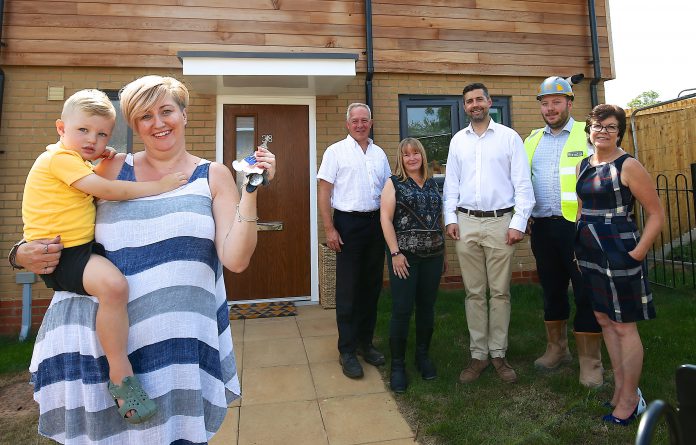 368, that's the total number of affordable homes built in South Gloucestershire over the past year, taking the figure to a record high.
From Emersons Green to Longwell Green, rural villages and Thornbury, this is the highest number of affordable homes to be completed across South Gloucestershire in any given year, and is more than was achieved in any of the other West of England Councils.
Cllr Erica Williams, Cabinet Member responsible for housing delivery, said: "This is great news for people who need an extra helping hand to rent or part-own their first home.
"The council works with the 'HomesWest' housing association partnership and with Homes England, developers and housebuilders to provide these homes either for social and affordable rent or shared ownership.
"As a local authority area where average house prices are above the national average at £250,000*, having access to suitable housing is directly related to preventing homelessness and is vital to addressing other housing related support and social welfare issues.
"With new schemes in the pipeline, I'm confident that next year the number of completions will continue to rise so that more people will benefit from owning or renting their own home."
The stats
In 2017/18, 368 new affordable homes were completed in the following locations with 302 of the total number provided as much needed rental properties for families with the greatest need. It is likely that this represents a significant proportion of the national delivery. In 2016/17 there were 237 social rent completions in South Gloucestershire, which represented approximately five per cent of national supply. (NB – It's not possible to do the equivalent calculation for 17/18 as the national figures aren't available yet).
Affordable home completions:
East Fringe – 39, Emersons Green – 117, Filton – 71, North Fringe – 33, Thornbury – 43, Yate – 20.
In more rural locations including Coalpit Heath, Frampton Cotterell, Charfield and Cromhall the total number is 45.
In April this year, the Forecastle supported housing scheme also re-opened in Alveston providing specialist housing for vulnerable adults. And a ground-breaking event was held in April for a new scheme which is currently being built in Cecil Road, Kingswood. The former warehouse building has been demolished to make way for the construction of 29 shared ownership homes, consisting of 19 two-bed flats and 10 one bed flats.
In 2016/17, the total number of completions was 360 and in 2015/16 the number was 263. In 2014/15, the number was 326 as a number of large strategic sites and affordable housing schemes were completed in this year. And in 2013/14 the figure was 298.
Case study
In Longwell Green, working in partnership with Sovereign Housing, a new housing development was opened at the end of July and the first tenants have already moved in.
One of the new residents who received the keys to their new home was Samantha Burge (pictured), who moved into her new three bedroom home with her young family. Samantha said: "We've somewhere stable to live at long last. The girls and Albie have their own rooms. It means we don't have to worry about moving every six months.  Albie has had each birthday in a different house until now. Here I can open the door and just let him play in the garden – we've even got him a paddling pool!"