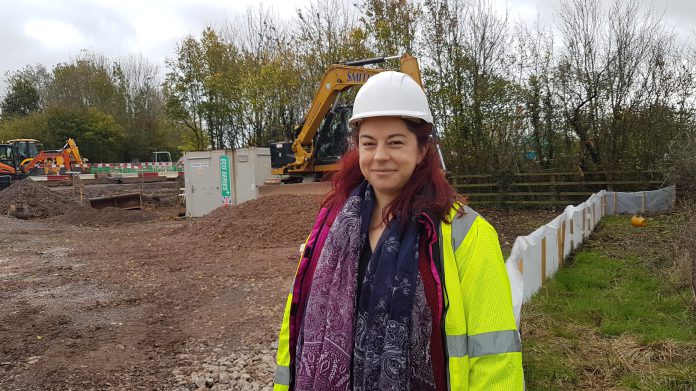 Mangotsfield Sort It recycling centre's new slip road is set to be completed and open from early March 2023.
The slip road will provide a new entrance for residents to access the recycling centre via a dedicated lane to help reduce the impact of vehicles queuing on Carsons Road when the site is busy.
Once completed, all residents using the recycling centre will use the new slip road entrance. New lanes linking to the slip road have been installed on the approach from the A4174 Ring Road and from Siston Hill and Goose Green. Residents approaching the site from Mangotsfield will need to travel around the roundabout on the A4174 Ring Road to access the slip road and new site entrance. The layout of the recycling centre site and the exit will not change.
Waste and recycling vehicles and trade waste vehicles will also use the slip road to enter the waste transfer station next to the public Sort It recycling centre.
The project additionally includes a nature improvement plan with a target to improve biodiversity which will include planting a new hedgerow and trees and creating habitat areas for birds, bats and reptiles.
Councillor Rachael Hunt, cabinet member responsible for waste services at South Gloucestershire Council said: "The slip road is just part of our plans to improve the area's waste service infrastructure. These plans include expanding the Mangotsfield depot to accommodate collection vehicles and developing a new waste depot and recycling centre in the Filton area.
"Moving forward and developing these sites will ensure we continue to deliver good value for money on waste services, have capacity for household waste from the growing population and allow for opportunities to recycle even more.
"Our excellent recycling rate of 60 per cent for 2021/22 is testament to the residents in South Gloucestershire who treat recycling as the norm. We want to help them do even more with improved infrastructure so even less waste is sent to landfill, which is great news for nature and the environment."
The Sort It recycling centres are for people living in South Gloucestershire to dispose of household waste and recycling. Commercial waste and waste from businesses must be taken over the weighbridges to the waste transfer stations located next to the Sort It recycling centres at Mangotsfield and Yate.
For more information and to find your local Sort It centre visit www.southglos.gov.uk/sortit