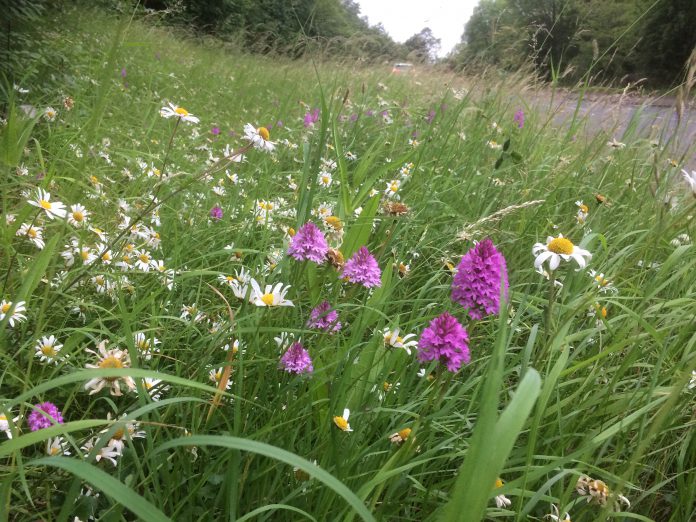 Town and Parish Councils are working with South Gloucestershire Council to deliver Local Nature Action Plans (LNAPs) to take meaningful action to protect our environment and meet the challenge of the Climate Emergency.
Developed by the Biodiversity Team at South Gloucestershire Council, an LNAP sets out information, guidance and a template plan for local councils to identify priorities and the actions they want to take to protect and increase nature in their local area. Work to protect and improve local natural resources is an important element of our commitments outlined in the Green Infrastructure Strategy, adopted by the Council earlier in November.
LNAPs were launched last summer in recognition that town and parishes, many of which have also declared a Climate and a Nature Emergency, are keen to play their part in their communities to improve their local area, but do not always have the resources to coordinate local projects. We wanted to support those efforts as part of our own commitment to taking strategic steps to help local actions make the differences we need to see to help our environment and the climate.
We are already working to support Marshfield, Olveston, Siston, Frampton Cotterell, Tytherington and Westerleigh Parish Councils, as well as Patchway, Sodbury, Thornbury and Yate Town Councils as they develop their plans, which will help to guide work alongside these communities to support their natural environment.
One example of the collaborative work community groups can do with the support of a local council can be found in Frampton Cotterell. Here, Floral Friends of Frampton have worked with the Parish Council to create connected habitats, a fantastic network of flowers across the village to help pollinators thrive. The Frampton Cotterell Scouts group have also recently planted trees on Parish Council land, creating a connecting woodland habitat for a range of tree-loving species. These nature projects would not be possible without the dedication and involvement of local groups and volunteers working alongside the Parish Council.
A spokesperson for Frampton Cotterell Parish Council, Daisy Finniear, said: "We are really grateful to South Gloucestershire Council for helping us to harness collaborative partnerships and to create a local plan to protect and enhance nature. The Council's climate and nature committee members have almost completed a Local (Climate) & Nature Action Plan for Frampton Cotterell with the support and knowledge from South Gloucestershire's nature team and local volunteers. The LNAP webinars have been invaluable in guiding us through the action planning process and the guidelines are an invaluable source of advice, information, and inspiration. We cannot wait to share our finished LNAP with everyone.
Leader of South Gloucestershire Council and Lead Member on the Climate Emergency, Councillor Toby Savage, said: "The work on Local Nature Action plans is truly pioneering. Following our declaration of a Climate and Nature Emergency and through our Council Plan, Green Infrastructure Strategy and Climate Action Plan, we are prioritising meaningful steps to protect our environment and to play our part in reducing harmful emissions that contribute to climate change.
"This is a challenge that we must all face up to and it is important to recognise how crucial the local steps we can all take are in addressing the issues we all face.
"By providing help, guidance and support to Town and Parish Councils, we can help harness the local resources and enthusiasm to protect the places we live now and for the future. I am delighted that many local councils have already signed up to set out their own action plans and look forward to more joining up in the future."
To help Town and Parish Councils develop their own plans, a series of webinars were held with those who signed up to take part:
• Introduction to Local Nature Action Plans – https://youtu.be/Ig9Kj0hGclM
• Identifying Opportunities for Nature – https://youtu.be/pHMxG4RbTEM
• A Swift Recovery – https://youtu.be/wLZrBe3W-RE
The South Gloucestershire Council LNAP work is leading the way and a strong exemplar of best practice to support and champion practical action on the ground in local communities for nature. There is also scope for LNAPs to be applied across the West of England and beyond, presenting an important opportunity to highlight the work of the council to pioneer and launch this innovative, practical, and important contribution to respond to the Nature Emergency.