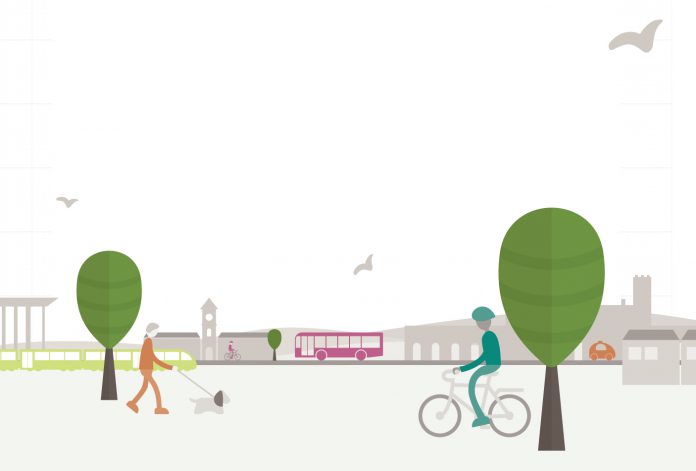 The Council is beginning the process of producing a new Local Plan that will guide planning decisions across South Gloucestershire over the coming years.
A Local Plan is the mechanism by which councils set the rules and requirements for new developments. It is produced to satisfy national planning laws, but with community involvement so that residents are aware of how growth will be permitted to happen in the future and so that developers and builders can understand the kind of projects that will be granted planning permission.
The South Gloucestershire Local Plan will be informed in part by the final Joint Spatial Plan (JSP), which is being produced by the four West of England councils (South Glos, Bristol City, Bath & North East Somerset and North Somerset). The JSP will identify areas known as Strategic Development Locations (SDLs), which will describe where larger scale growth should happen to accommodate growing populations and the need for space to build businesses and employment opportunities. The updated draft of the JSP is expected to be published for a final round of public consultation this winter.
Although the JSP is still in draft form, South Gloucestershire Council is keen to begin the process of producing its new Local Plan, so community engagement will begin next week based on the draft SDL proposals in the current draft of the JSP.
Five locations in South Gloucestershire: Charfield, Coalpit Heath, Buckover Garden Village, Thornbury, Yate and Chipping Sodbury, are identified as potential suitable and sustainable locations for new strategic development in the current draft JSP.
Events are now planned around those key areas. Feedback from these initial discussions will be fed into the first draft Local Plan, which will be published for full consultation across South Gloucestershire in the first half of 2018.
Event details:
Charfield – Wednesday 20 September, Charfield Memorial Hall, 2-8pm
Coalpit Heath – Friday 22 September, Coalpit Heath Village Hall/Miners Institute, 2-8pm
Thornbury – Friday 29 September, Armstrong Hall, 2-8pm
Yate and Chipping Sodbury – Wednesday 4 October, Sodbury Town Hall, 2-8pm
Buckover Garden Village – Friday 6 October at Falfield Village Hall, 2-8pm
Members of the public are encouraged to attend these sessions to find out more about the areas currently proposed. The intention is to hear from local people what the character and type of new development should be if decisions are taken in the future to place growth in that area.
Cabinet Member for Planning, Transportation and the Strategic Environment, Councillor Colin Hunt, said: "The Local Plan is important because it allows the council to demonstrate it has a strategy for growth and what is called a 'five year land supply'. If the council has a robust plan that will allow for appropriate development, then we are better able to control potential building projects and to reject those that are inappropriate of do not meet local needs.
"The JSP process is not yet complete and final decisions have not been made about where the Strategic Development Locations will be, but we want to start the conversation with communities to say, 'if there is growth, what do you want it to look like and what infrastructure and community facilities should we make sure are delivered alongside new housing or business premises?'
"It is important that we hear constructively from local people about their area. We all accept that there has to be growth, not just for people moving to the region because it is such an attractive place to live and work, but for our own future generations so that they aren't forced to move away from where they grew up to afford a home or find a job.
"A good, strong Local Plan, based on sound evidence and local community input, means we are much better placed to demand that developers deliver what we want and need."