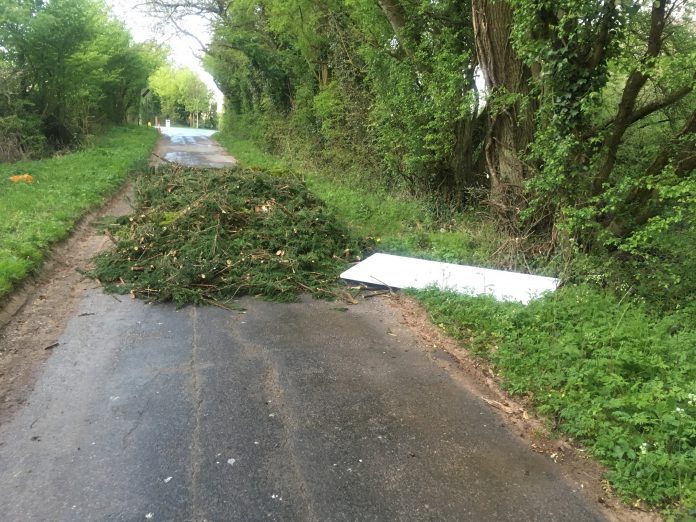 A St Albans man has been ordered to pay almost £1,900, after being found guilty of committing waste related offences in South Gloucestershire.
Johnny Brinkley, aged 25, of Barley Mow Lane in St Albans, was prosecuted by our environmental protection team after around a dozen separate loads of fly tipped waste were found in Howsmoor Lane, Emersons Green between December 2016 and May 2017.
The fly tips often completely blocked the lane, which is regularly used by dog walkers, cyclists and pedestrians as well as vehicles.
The court heard that in December 2016, a number of black bin bags containing household waste were discovered and evidence inside was traced to a nearby address which was found to be the home of Brinkley's estranged family. Residents in the local area reported seeing a tipper truck often parked outside the address full of waste.
Brinkley was interviewed by the council's envirocrime officers and he admitted fly tipping, transporting waste without a licence and Duty of Care offences relating to the waste found at Howsmoor Lane. He claimed he was using his truck for his labouring business, but admitted not having waste transfer notes to cover any waste he transported. He also claimed that although the green waste with the white door (pictured) was indeed on his tipper truck, he had allowed an unnamed person to take it from his truck without ensuring that it would be disposed of properly.
In court, Brinkley pleaded guilty to four charges; one for fly tipping, two for duty of care offences and one for transporting waste without a Registered Waste Carriers Licence.
He was handed a £500 fine, plus costs of £1,347.50 and a £50 victim surcharge (total £1,897.50).
The case was heard at Bristol Magistrates' Court on Wednesday 22 November.
South Gloucestershire Council's Executive Member for Communities and Tourism Cllr Heather Goddard said: "Fly tipping is an issue that affects our communities and local environment and this activity will not be tolerated in South Gloucestershire. On this occasion numerous fly tips took place completely blocking the lane which is popular with pedestrians, dog walkers and cyclists."
"Waste crime puts the environment at risk and anyone found to be fly tipping in South Gloucestershire will be prosecuted."
Residents and businesses are advised to only give their rubbish to an Environment Agency registered waste carrier.
Contractors should ensure that they hold a Registered Waste Carriers Licence and they comply with the Waste Transfer Note requirements.
You can carry out these simple steps to make sure your waste is disposed of legally:
Ask for a copy of the company's waste carrier registration certificate and ask where the waste is being taken. Legitimate firms will be happy to provide this information. Do not be tempted to use people offering cheap waste clearance on sites such as Facebook and Gumtree unless you have confirmed that they are registered with the Environment Agency
Check whether the waste carrier is registered by calling the Environment Agency on 08708 506506 or by checking on their website http://epr.environment-agency.gov.uk/ePRInternet/searchregisters.aspx
Ask for a registered trading address and contact telephone number for the trader and get a receipt.
Unwanted goods and household or garden waste can all be disposed of at no cost via the council's Sort It centres.
Residents who see illegal fly tipping are encouraged to report it by using our web form at www.southglos.gov.uk/flytipping or emailing streetcare@southglos.gov.uk