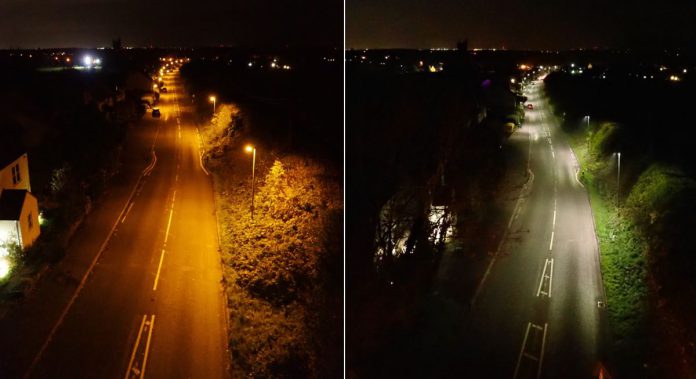 South Gloucestershire Council's mission of replacing the district's old-style street lights with more sustainable and efficient LED lights has delivered huge cost and energy savings as part of a commitment to a long-term, greener strategy.
Carbon has been reduced by 34,000 tonnes since the project started in 2014, which is the equivalent of around 85 million miles being driven by the average family car.
So far, we have successfully upgraded 23,000 of our 30,000 street lights with £12 million of energy and maintenance savings achieved, compared to the £6.1 million investment made to upgrade the street lights. The remaining 7000 will be fitted with the latest generation of LED lanterns.
This year, the LED street light project has already delivered cost savings of over £2.5 million and cut approximately 4000 tonnes of carbon. The project remains on target as it approaches its final two years, despite the challenges posed by the Covid-19 pandemic.
We are one of the few councils that chose a 10-year sustainable replacement programme. Now in its seventh year, the programme continues to deliver significant energy savings which is supporting our aims of becoming carbon neutral by 2030, as well as delivering value for money services for our residents.
South Gloucestershire Council's Cabinet Member for Regeneration, Environment and Strategic Infrastructure, Cllr Steve Reade said: "Not only does this project continue to deliver significant energy consumption and cost efficiency savings year on year, but it's supporting our goals of addressing the climate emergency by becoming carbon neutral by 2030.
"There is less light pollution from these lanterns, they use 60% less energy and last three times as long, requiring less maintenance and freeing up our StreetCare engineers to focus on other, important tasks and delivering the best value for money services possible. As the technology improves and the LED lights become even more efficient, we foresee further opportunities for energy savings while keeping our communities and highways well-lit for our residents."
For further information on the LED street lighting project visit: https://www.southglos.gov.uk/transport-and-streets/streets/road-and-traffic-management-information/lighting-street-lights/led-street-lighting/