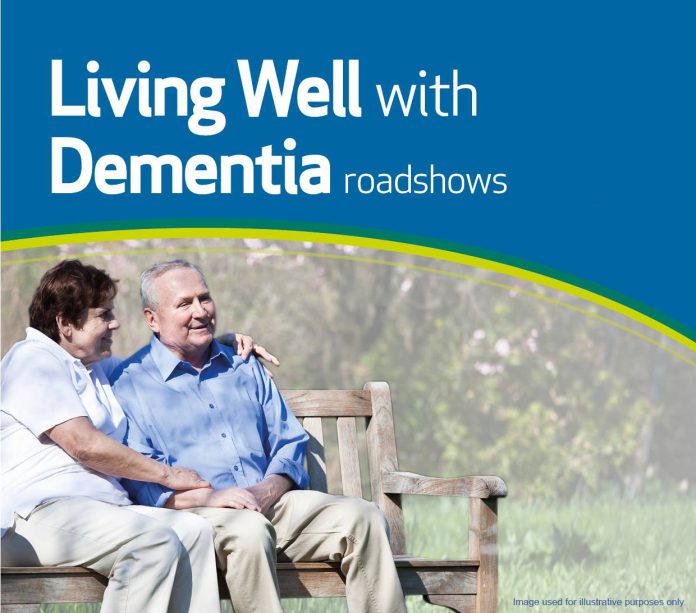 A 'Living Well with Dementia' roadshow takes place in Winterbourne on Thursday 23 May as part of Dementia Action Week (20 to 26 May).
Dementia Action Week unites people, workplaces, schools and communities to take action and improve the lives of people living with dementia.
The 'Living Well with Dementia' roadshow is for residents who have recently been diagnosed with dementia and their family, carers and friends. The free event is hosted by South Gloucestershire Council in partnership with Alzheimer's Society and takes place from 12.30pm until 3.30pm at WADCA – Winterbourne & District Community Association, Watleys End Road, Winterbourne, South Gloucestershire, BS36 1QG.
The roadshow will offer people information which may help them to understand their diagnosis, find out what support is available and learn how to live well with dementia. It will also include the following:
* a talk by Professor Gordon Wilcock, Founder Chairman of Alzheimer's Society (1979-1986), Alzheimer's Society Board of Trustees since 2015
* info on the offer from post diagnostic groups
* info on the support available from Alzheimer's Society
* advice on relevant Benefits from Age UK
* info on support available for family and other carers
* an opportunity to ask questions.
The event is free to attend, but places should be booked in advance by using one of the following methods:
Book online at https://dementiaroadshow19.eventbrite.co.uk
Email southgloucestershire@alzheimers.org.uk
Phone 01179 610693.
Cllr Ben Stokes, Cabinet Member for Adults and Public Health, said: "Have you, a relative, or someone you know who's living in South Gloucestershire recently been diagnosed with dementia? Please help us spread the word about our free Living Well with Dementia roadshow in Winterbourne on 23 May.
"A dementia diagnosis can leave the person with dementia and their family with lots of questions about what to expect and what they can do to plan for the future. These roadshows provide useful information to help answer these questions and provide reassurance that you're not on your own."
Lynn Cross, Alzheimer's Society's Services Manager for South Gloucestershire said: "Alzheimer's Society is determined to make sure no-one with dementia has to face a future alone. We are here to support anyone affected by dementia. We're delighted to be working with South Gloucestershire Council to deliver this roadshow event to inform people about the support available locally for people affected by dementia.
"Many of us worry about 'saying the wrong thing' to someone with dementia, yet a friendly face or listening ear can make the world of difference. This Dementia Action Week, we're encouraging everyone to take action by starting a conversation; whether it's calling a relative with dementia or visiting a neighbour, it's time to start talking. The roadshow on Thursday 23 May offers the perfect opportunity to start some important conversations and we hope to see lots of people there."
A previous participant said: "The more events like this the better. People don't know where to go for help and what to do."
For more information about dementia support in South Gloucestershire visit www.southglos.gov.uk/dementia
For more information about Dementia Action Week visit www.alzheimers.org.uk/DAW