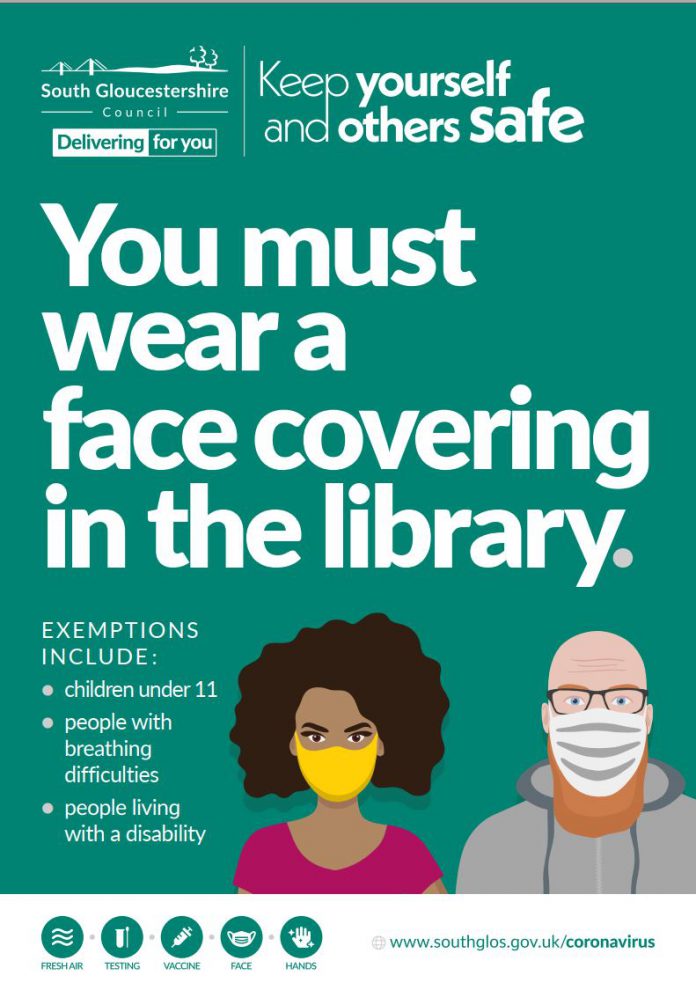 The Government has announced that England will move to Plan B of its winter plan to help protect everyone from Covid-19 and particularly in response to the risks of the Omicron variant.
The Plan B measures are designed to help to slow the spread of the variant and reduce the chances of the NHS coming under unsustainable pressure, while buying time to deliver more boosters, gather more data on how effective the vaccine is against this variant, the severity of disease and the worrying impact on hospitalisations.
This means:
From 10 December, face coverings will be required by law in most indoor settings including cinemas, libraries and theatres
From 13 December, office workers who can work from home should do so
From 15 December, certain venues and events will be required by law to check that all visitors aged 18 years or over are fully vaccinated, have proof of a negative test in the last 48 hours, or have an exemption.
In South Gloucestershire, case numbers remain high and we urge everyone to follow the new rules and those already in place, including mandatory face coverings in shops, hairdressers, retail centres, places of worship and on public transport.
Plan B restrictions in South Gloucestershire: what you need to know
From tomorrow (Friday 10 December), you will be legally required to wear face coverings in most indoor settings including in all our libraries and One Stop Shops.
In South Gloucestershire, around 40 venues – nightclubs and premises with late licences, dance floors or live music – will be required to ask for a Covid pass or proof of a negative lateral flow test before entering. Our licensing team is working with those affected to make sure they are aware of the legislation and how to put these measures in place.
To help support local businesses and give shoppers confidence to continue shopping on our high streets, we are reinstating our Covid engagement marshals during the busiest shopping period of the year. Marshals were previously a regular sight on our high streets during periods of tighter restrictions but were stepped down earlier this year as we emerged from the steps of the Government's roadmap. They are now being introduced temporarily over Christmas and into the January sales when shops and high streets will be particularly busy.
Eight marshals will be out and about in high streets and shopping centres across South Gloucestershire handing out face coverings, hand sanitiser and information about testing, vaccination and how to keep ourselves and each other safe. They will be visiting businesses which are legally required to display posters informing customers they must wear a face covering, unless exempt, to check they are displaying the notices and where necessary will provide them with additional materials and guidance.
Our marshals do not have enforcement powers but will report back any premises that are not complying with the legal requirements.
Sara Blackmore, Director of Public Health for South Gloucestershire Council, said: "The new restrictions start coming in to force from tomorrow and it is important that everyone remains cautious and follows the national measures and guidance in place.
"You can also help by doing the following:
Get vaccinated – get your first dose and second dose if you haven't already, and come forward for the booster when you are invited
Wear a face-covering – even where it is not mandatory, if you are in a crowded and enclosed place where you come into contact with people you do not normally meet, you are advised to wear a face-covering
Wash your hands regularly
Take a lateral flow test on days when you're more likely to catch or spread Covid-19, for example, before you mix with people in crowded indoor places or visit someone who is at higher risk of getting seriously ill from Covid-19
Stay at home if you are feeling unwell and, if you have any of the Covid-19 symptoms, isolate immediately and get a PCR test
Meet outdoors if you can, or if indoors, open a window to let in fresh air.
"Protecting you and your family's health and safety requires each and every one of us locally to play our part and act sensibly and cautiously. Thank you for what you are doing to keep yourselves and others safe."
We have guidance on celebrating this Christmas available on our website https://beta.southglos.gov.uk/guidance-for-events-and-celebrating-occasions/
Information and advice, including financial and wellbeing support, is available on our website www.southglos.gov.uk/coronavirus