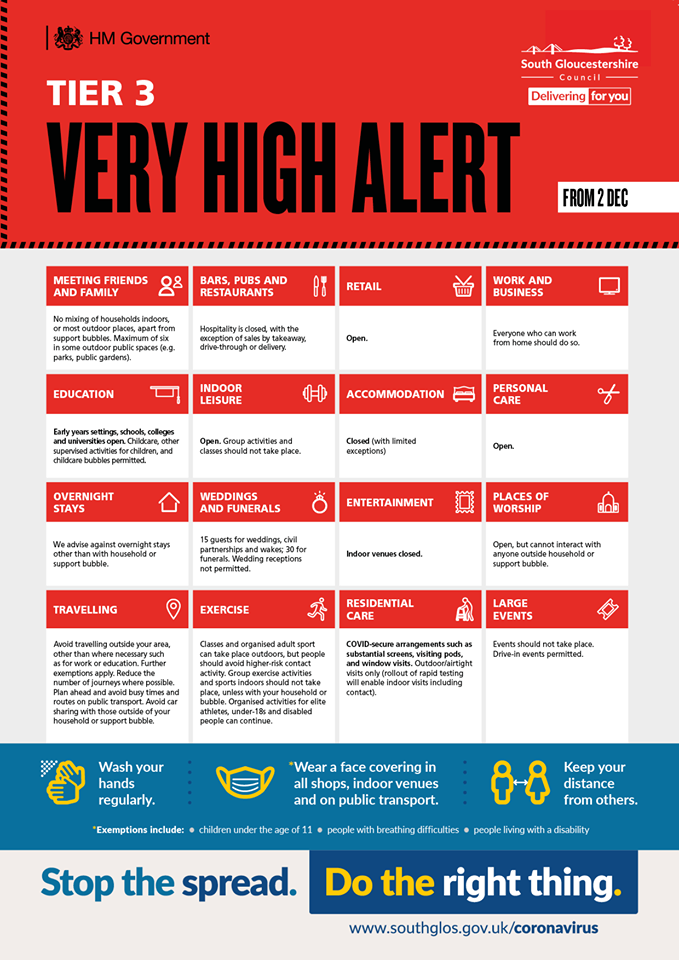 A statement issued on behalf of Sara Blackmore, Director of Public Health at South Gloucestershire Council: "We share your disappointment at being kept in Tier 3 restrictions by the Government, while areas around us have been moved down, and understand the confusion caused by the separation from the Bristol and North Somerset areas despite us continuing to share the same health and social care systems. This doesn't seem fair, and we have written to the government to make this known and requested an urgent meeting to discuss the decision.
"We are in challenging times, but I would ask that we continue to look after each other, show patience and kindness and continue to build on the resilience all of you have been developing through this year and work together to keep South Gloucestershire safe.
"It is vital that we all work together to continue the progress that we have been making in controlling the spread of the virus. This includes making low-risk decisions about Christmas and finding ways to celebrate that keep ourselves, our loved ones and our communities safe. I do appreciate how hard this is – we are all tired and want to spend time with our loved ones, but the virus is still circulating, and we need to help keep each other safe and focus on the long term when we can be together again.
"Cases of Covid-19 have begun to rise again in recent days as the effect of the national restrictions have passed. We are seeing cases spike in different geographical areas, and different age groups.
"The virus can spread rapidly among people when they are in close contact. Potentially up to one in five people have the virus without symptoms and so could be spreading the disease without knowing it.
"When the decision was taken by Government to keep South Gloucestershire in Tier 3, the Bristol rate of new Covid cases was still declining (by 5.3 per cent from 7 days prior), whereas the South Gloucestershire rate had risen by 17 per cent over the same time. We now also have consistently higher rates than Bristol for cases in children and adolescents. Following the decision being announced yesterday, among people aged 10-14 in South Gloucestershire the rate was 282 per 100,000, while for Bristol that was 109 per 100,000). In adults aged 35-39 in South Gloucestershire the rate was 279 per 100,000 and for Bristol that rate was 143 per 100,000.
"We know that high rates of transmission in these ages soon leads to higher rates in older adults and more severe disease and, sadly, deaths. It is these trends that we need to reverse in order to make South Gloucestershire safer and get out of Tier 3.
"Our local public health team monitor local infection rates daily and target action to prevent and manage outbreaks based on this data. Actions may include working with local businesses and schools when data suggest there may be an outbreak, as well as working directly with local communities when infection rates indicate high levels of community spread. Community action includes additional targeted communications via social media, leaflets and posters aimed at communities impacted, as well as working with local community groups and businesses to get prevention messages across.
"We are making progress, and there is good news with the vaccine now being delivered to some of the most vulnerable in our community, 975 people received their first jab of the vaccination through the Kingswood Health Centre primary care vaccination programme alone over the past week and the Yate primary care programme is due to administer the first injection to a further 975 people this weekend.
"It is absolutely essential that we all take personal and collective responsibility for our actions. The easiest way to help protect yourself, your loved ones and those around you is to continue to abide by Hands Face Space. But it is also important that we all continue to follow the guidance for the Very High alert, Tier 3 level and think very carefully about how to manage the risk of infection over the Christmas period."
A copy of the letter written by the Leader of South Gloucestershire Council, Cllr Toby Savage, to the Secretary of State for Health and Social Care is available via the following link – SoS letter 181220 Tier 3