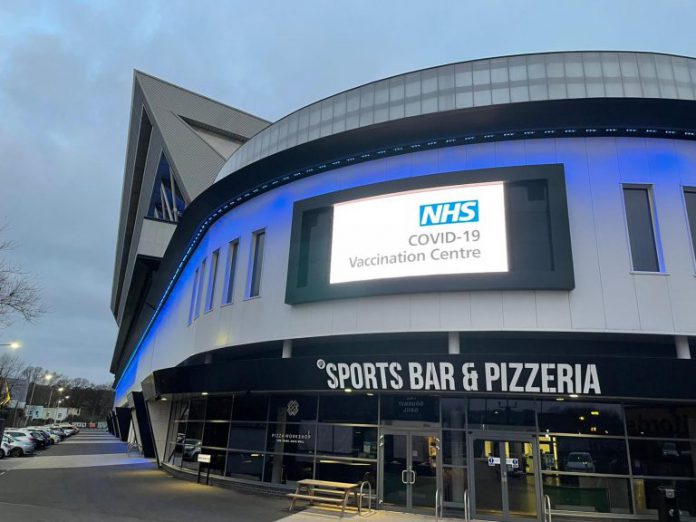 The roll-out of local Covid-19 vaccinations has been expanded with the opening of a vaccination centre at Bristol's Ashton Gate Stadium.
The centre adds to vaccinations already being carried out at local hospitals and General Practice Primary Care Networks sites.
Dr Tim Whittlestone, Clinical Lead for the NHS vaccination programme in Bristol, North Somerset and South Gloucestershire, said: "We are delighted to be able to take the next step in our vaccination roll-out by opening the Ashton Gate facility and welcoming people for their jabs.
"Once fully operational, staff at the facility will be able to vaccinate thousands of people each day, building on the outstanding work our local GP services and hospitals have been doing over recent weeks to ensure our most vulnerable people receive the vaccine.
"Although the introduction of the centre is a welcome boost in the face of rising Covid-19 cases, our hospitals and staff are facing significant pressures and we must each take a personal responsibility to help stop the spread of this deadly virus. Please continue to follow national lockdown guidance, and remember hands, face, space when you do leave home."
Christina Gray, Director of Public Health for Bristol, said: "It is fantastic news that COVID-19 vaccinations begin at Ashton Gate stadium today. This is a very positive step in the fight against COVID-19 and will provide protection to some of our city's most vulnerable and high risk residents.
"We continue to support the NHS with the vaccine rollout across Bristol, in line with the national prioritisation programme and strongly encourage those who are invited to get the vaccine, to do so as soon as possible.
"However, now is not the time to become complacent. The new strain of the virus is much more infectious and we must act now to stop transmission and save lives. Bristol's rate is currently 478 new cases per 100,000 population, showing cases continue to rise across the city, and across age groups.
"Please act as if you do have the virus – do not socially mix, remember hands, face, space and if you develop symptoms, get tested."
The Ashton Gate facility will continue to focus on vaccinating people over 80 as well as supporting the vaccination of front-line health and care staff.
People who book in to a vaccine centre will be greeted by volunteers who will marshal carparks and register them when they arrive. Bookings are staggered to allow social distancing.
They will receive a health status check and a pre-vaccination assessment before they have their jab and then be observed for 15 minutes. The process should take well under an hour.
While the opening of the vaccination centre means the NHS will be able to ramp up its vaccination efforts, it will still take some time to reach everyone who needs to be vaccinated. The NHS will be in touch when it is your turn.