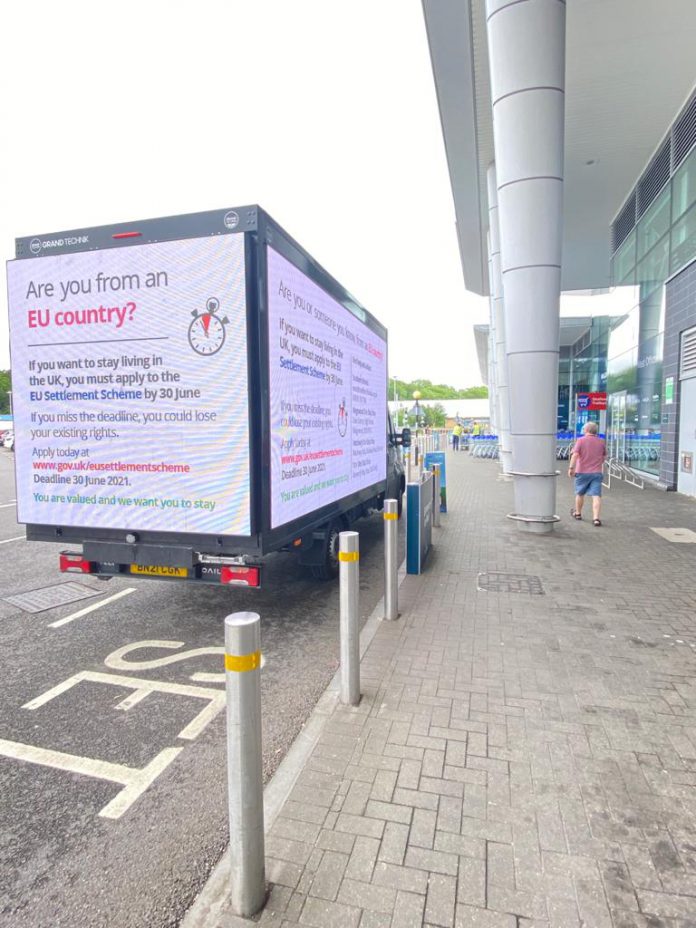 With the deadline to apply to the EU Settlement Scheme rapidly approaching, digital ad vans telling EU nationals we'd like them to stay can be seen around the region.
With the 30 June deadline to apply just two weeks away the councils of Bristol, Bath & North East Somerset, South Gloucestershire, North Somerset and Somerset have been working together to make sure every EU citizen who wants to stay living here is aware of the scheme and knows how to get help to apply if they need it.
The vans, which can be spotted throughout the West of England region throughout this month, are just one of the ways councils are getting the message out to EU nationals, with all activity funded by the Avon & Somerset Local Resilience Forum (A&S LRF). You may hear radio ads on your community radio station, see posts on social media, or posters and translated postcards while out and about shopping.
Leaders in the region fear the pandemic may have prevented people getting help to apply if they need it, or delayed applications. There's also concern that older EU nationals who have lived here most of their lives may not be aware they need to apply, or that parents may not know they need to apply for their children.
Mayor of Bristol, Marvin Rees wrote to the Home Office along with other city leaders asking for the deadline to be extended due to these concerns.
Mayor of Bristol, Marvin Rees, said: "It's unfortunate the deadline for EU nationals to apply to the scheme has not been extended given the challenges the last year has brought.  However, we're pleased to have received this funding from the LRF to allow us to continue to carry out work in the region in partnership with our neighbouring authorities. As a city of sanctuary, we're determined that everyone who wants to stay living, working and studying here should have the opportunity to apply and be able to access support services if they need it"
South Gloucestershire Council Leader, Cllr Toby Savage, said: "Local EU, EEA and Swiss nationals are an integral part of our thriving community in South Gloucestershire and we are pleased to be working together with our partners within the Local Resilience Forum to encourage applications to the EU Settlement Scheme. If you are eligible and have not already done so, I urge you to apply now and encourage others to do the same, to ensure you don't lose your existing rights to live and work here and access services. It's great to see the digital ad van out and about in South Gloucestershire helping raise awareness of this important scheme and details of where you can find support to apply prior to the fast-approaching deadline."
Cllr Kevin Guy, Leader of Bath & North East Somerset, said: "Our message to EU citizens living in Bath and North East Somerset is simple and clear- you are valued and we want you to stay. But to secure your rights you must apply to the EU Settlement Scheme by 30 June 2021.
"We're spreading the message as widely as we can but please help by telling your friends, neighbours and work colleagues. Our area is stronger in diversity and that is why it is so important that people should have the opportunity to apply."
Chair of the LRF, Assistant Chief Constable Nikki Watson, said: "We are pleased to be providing this funding to the local authorities. We would urge everyone who is eligible for the scheme to apply ahead of the deadline at the end of June."
As well as the boost from the LRF, the Home Office is working with other government departments including DWP and HMRC to identify and write to or text EU nationals about the need to apply.
The deadline to apply to the EU Settlement Scheme is 30 June 2021. Apply and find help at gov.uk/EUSettlementScheme.