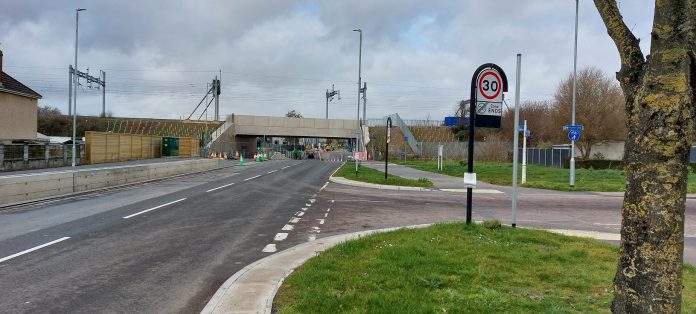 Following a £57million investment to transform public transport in the area, Gipsy Patch Lane will reopen to two-way traffic along its full length between the A38 junction and the Hatchet Road roundabout next month.
The road in Stoke Gifford has been subject to traffic management restrictions since spring 2020 to enable the replacement of a Victorian railway bridge and road widening works to make way for new bus lanes.
The work has included improvements to pedestrian and cycling facilities and is part of the Cribbs Patchway metrobus extension (CPME), which will help to reduce congestion and improve journey times for all road users.
CPME will provide a new quick, reliable public transport system between Bristol Parkway Station and the Mall at Cribbs Causeway and offer a realistic alternative to travelling by car.
CPME is funded by the West of England Combined Authority and by the West of England Local Enterprise Partnership through the Local Growth Fund.
To enable Gipsy Patch Lane to be reopened to two-way traffic resurfacing work will need to take place over the Easter period. From 8pm on Friday 8 April until 6am Monday 25 April, Gipsy Patch Lane will be closed to all traffic between its junction with Little Stoke Lane and the entrance to Pegasus Park.
During the resurfacing work all side road junctions along Gipsy Patch Lane that fall within the closure will also need to be closed to traffic. This includes the junctions for Station Road, Gifford Crescent, the service roads, Smithcourt Drive and Bush Avenue. Pedestrians and cyclists will still be able to use the shared use path along Gipsy Patch Lane and access side junctions.
There will be signed diversion routes in place throughout the closure.
Businesses at Station Road, Gifford Crescent, Pegasus Park and the Stokers Pub will remain open for business as usual and will need to be accessed via signed diversions.
Gipsy Patch Lane will reopen to two-way traffic from 6am on Monday 25 April. All side road junctions will also reopen to traffic from this date.
Road widening work will continue to be carried out on Gipsy Patch Lane, west (the Rolls Royce side) of the railway bridge, and to enable this work narrow lanes will be in place along this stretch of the carriageway.
The main construction work for the CPME is due to complete in September this year. Other work, such as the installation of iPoints and bus shelters and landscaping will be completed during the autumn.
Cabinet Member for Regeneration, Environment and Strategic Infrastructure Cllr Steve Reade said: "The Cribbs Patchway metrobus extension is a key step in our ambition to improve public transport, walking and cycling facilities, and the road network in South Gloucestershire as part of our record £174 million investment.
"It is also part of our commitment to tackle climate change by encouraging more people out of their cars and onto sustainable transport options, helping to reduce carbon emissions and improve air quality. The reopening of Gipsy Patch Lane to two-way traffic is another move towards the completion of this flagship scheme.
"We apologise for any inconvenience caused by this work and thank the local community for their continued patience."
Dates and times may be subject to change due to circumstances beyond our control.
Visit the project website for more information www.southglos.gov.uk/cpmetrobus