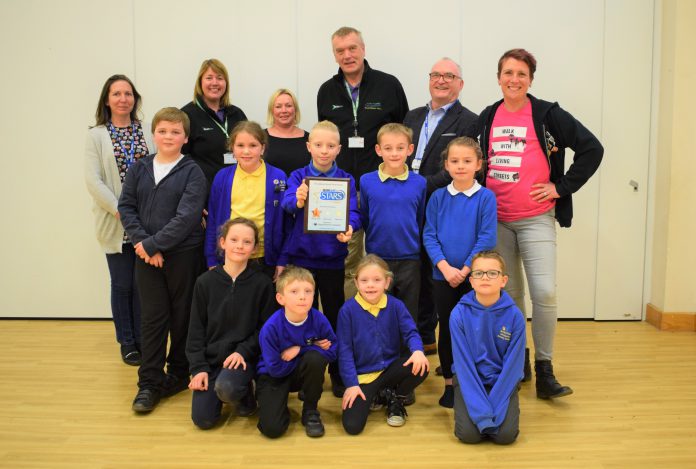 A South Gloucestershire school is set to inspire others by becoming the first in the district to achieve a Modeshift STARS (Sustainable Travel Accreditation and Recognition for Schools) Award.
Barley Close Community Primary School in Downend has been presented with a STARS Bronze Award for encouraging more of their children and staff to use sustainable methods of transport to get to school each day.
The majority of the children from Barley Close School either walk, cycle, scoot or use public transport to travel to school, with a further 25 per cent making use of a Park and Stride scheme to encourage walking as part of their school journey – reducing carbon emissions and congestion as they go.
Road Safety Officers from South Gloucestershire Council and Living Streets attended the school recently to present the children, staff and governors with the award.
Head of Streetcare at South Gloucestershire Council, Mark King said: "I congratulate everyone at Barley Close Community School for achieving this award which is a fantastic effort by all involved.
"We know that small changes like walking and cycling to school or work instead of using cars and other vehicles can have a big impact on congestion, pollution and improve air quality. Becoming more active provides significant health benefits and I'm sure more schools across South Gloucestershire will be inspired by the success achieved here."
Jo Williams, Head Teacher at Barley Close Community Primary School said: "We are working together as a school community to encourage pupils and staff to actively travel to school by taking part in walking initiatives with Living Streets and Bikeability cycle training and pedestrian training with the Road Safety Team.
"Active travel to school helps children feel happier and healthier and they arrive at school refreshed, fit and ready to learn. More families actively travelling to school means fewer cars on the road during the school run and helps to reduce congestion and pollution at the school gates."
Amelia and Thomas are in year 2 at Barley Close Community Primary School, they said: "I live too far away to walk all the way to school but we can park the car and walk some of the way to school so I can get my badge."
There are currently 3,700 schools signed up to Modeshift Stars across 95 authorities. The scheme is open to any local authority and school in the UK (London schools excluded). The system allows schools to gain an award regardless its of size, type or location. As long as a school shows a commitment to supporting cycling, walking and other forms of sustainable transport, they are eligible to work towards achieving accreditation.
Further information on road safety in South Gloucestershire can be found at www.southglos.gov.uk/transport-and-streets/transport/road-safety-transport/